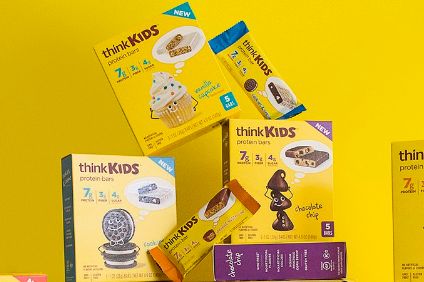 just-food publishes the most notable product development from the international food sector, presented in bitesize format to give you a flavour of the innovation from your peers and competitors announced this week.
ThinkKids launches with protein bar range
Los Angeles-based snack bar start-up ThinkKids has launched with Protein Bars for Kids.
The company claims the products contain 45% less sugar than the leading granola bar in the market.

ThinkKids said the bars were created to solve the "daily tug-of-war parents face with their kids when choosing between snacks that are nutritious versus delicious".
Each bar contains 7g of protein and 3g of fibre while limiting sugar to 4g per serving. They are also gluten free, GMO-free and made with no artificial flavours or colours.
Cherry Joh, senior marketing director at ThinkKids, said: "We saw a hole in the marketplace because many kids bars don't contain a lot of protein and can often be loaded with sugar."
The bars are available in five flavours: Chocolate Chip, Peanut Butter Cup, Cookies & Creme, Cinnamon Sugar Cookie and Vanilla Cupcake.
They will be debuting in retailers in the US this summer, starting with Target and Kroger.
Grupo Bimbo debuts new organic bread line in US
Bimbo Bakeries, the US arm of Mexican baking giant Grupo Bimbo, has introduced a new organic line across its Arnold, Brownberry And Oroweat brands.
The products are USDA-certified organic and non-GMO project-verified with no artificial preservatives, colours or flavours, no high fructose corn syrup and 0g of trans fat.
The three varieties are available in 27-oz packages. They are Organic 22 Grains & Seeds Bread, Organic 100% Whole Grain Bread and Organic Rustic White Bread.
Marlene Sidhu, marketing director of Arnold, Brownberry and Oroweat Bread, said: "We wanted to create a bread with simple, easy-to-pronounce ingredients without sacrificing great taste."
The brand is also introducing additional varieties in select regions across the country based on consumer preferences, including Oroweat Organic Quinoa & Wheat, Oroweat Organic Smooth Wheat, Oroweat Organic Thin Sliced 22 Grains & Seeds, Oroweat Organic Thin Sliced 100% Whole Grain and Oroweat® Organic Thin Sliced Nutty Wheat Berry.
The bread has a RRP of US$5.49.
McCormick broadens Schwartz stable in UK
US-based spices and seasonings supplier McCormick & Co. has added to the Schwartz range on sale in the UK in a bid to tap into demand for "more adventurous and varied flavours".
The Street Food Seasonings line comprises six seasonings including Korean BBQ, Chimichurri and Sriracha, sold at what McCormick called the "accessible price point" of GBP0.99 (RRP).
Marketing for the new range includes a "partnership" with Kyra TV, a UK digital broadcaster targeted at millennials and work with YouTube channel Twisted.
Danone adds 15 new products to Cow & Gate baby food range
French dairy group Danone is launching 15 new products under its UK-based Cow & Gate baby food range along with a packaging rebrand across the entire portfolio including infant formula.
The changes are part of an initiative started in 2016 to use simple recipes with no artificial colours, flavourings or preservatives, and to remove added sugar.
Cow & Gate is debuting Butternut Squash and Salmon and Courgette, both in jar format aimed at weaning babies, and adding new pouch flavours such as Strawberry Quinoa with Greek Style Yogurt. Four new porridge recipes have also been introduced for babies up to one year such as Multigrain Porridge with Oats and Barley.
And for children aged 12 months or older, Cow & Gate is launching new steam tray meals like Vegetables, Chicken and Mango Curry.
All the new products will start to be launched from mid-June.
Danone debuts next generation Aptamil infant formula
Danone is set to debut a new patented next generation infant formula under its Aptamil brand along with a packaging refresh.
Aptamil Follow On Milk and Growing Up Milks with Pronutra Advance combine a new unique process with a patented blend of ingredients including vitamin D to support the normal function of the immune system.
The packaging refresh will take in all products in the Aptamil range and include clear front-of-pack staging, making the products more easily identifiable on shelves. The new formulations and pack designs will be available to retailers from the end of June.
Marie-Astrid Gosse, the marketing manager at Aptamil, said: "This is the biggest change we have made in over a decade and we truly believe our investment in maintaining quality means our range is one of the best in market."
Danone said the new packaging for its specialist and premium Aptamil products will be 800 grams with prices starting from GBP1.24 (US$1.65) per 100g.
Lactalis enters soft white cheese category with Galbani Freschetto
The UK arm on European dairy firm Lactalis Group is entering the soft white cheese category with the launch of Galbani Freschetto.
Lactalis McLelland is debuting the Italian branded cheese with initial listings in Asda and Waitrose at a recommended retail price of GBP2 (US$2.67) for a 150-gram tub.
Galbani Freschetto is available in two varieties: Galbani Freschetto Pesto and Galbani Freschetto Classico with olive oil.
Mike Chatters, the sales director for Lactalis McLelland, said: "We see an opportunity to drive incremental value into the declining soft white cheese category with an iconic brand people know and love. Galbani Freschetto taps into the rising popularity of continental cheese and growing appetite for Italian flavours and offers consumers a credible alternative to the current market leader."