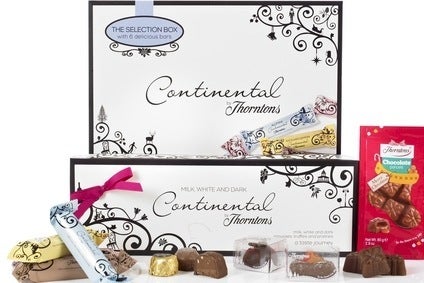 Shares in Thorntons tumbled today (13 October) after the UK chocolate maker booked a drop in first-quarter sales – but the business insisted its annual profits will hit market expectations.
The company posted an 11.9% fall in sales to GBP41.4m (US$66.6m) for the 14 weeks to 4 October. Revenue from both of Thorntons' divisions – the FMCG arm selling into customers including major supermarkets and its retail business – dropped year-on-year.
Thorntons said it had warned when it reported its annual results last month there could be "fluctuations in our quarterly reporting" as the company "changes into an FMCG business", due to the timing of orders from its UK commercial customers. Over the last three years, Thorntons has been "re-balancing" its business away from one focused on its UK retail stores to a broader company selling into different channels, including supermarket, convenience and online.
The group expects the trend to "reverse" in the second quarter and it forecast higher half-year sales from its UK commercial unit.
For the year as a whole, Thorntons is "confident" it can hit the consensus expectations for pre-exceptional profit before tax of GBP9.65m. Last year, profits by that metric were GBP7.5m.
Shares in Thorntons were down 11.11% at 88p at 10:23 BST this morning.
Reflecting on the results, Investec analyst Nicola Mallard said she would not be making any changes to her forecasts. "The actual update is very much in line with what we expected," she wrote in a note to investors.