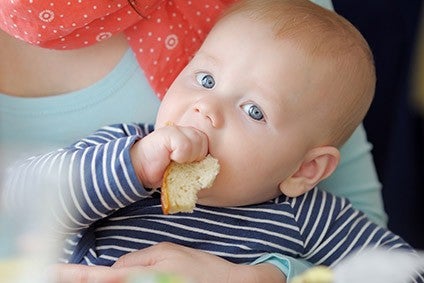 Around three-quarters of children aged up to a year in the UK are over-fed, according to a warning from a panel that advises the country's government on nutrition.
In the first update for more than 20 years to the guidance issued in the UK on feeding babies, the Scientific Advisory Committee on Nutrition (SACN) has raised "concerns" about the proportion of infants "with energy intakes above requirements" and the percentage "exceeding growth standards for their weight", a statement from the Public Health England agency said.
SACN estimates around 75% of infants fall into both areas. The data comes from surveys carried out in 2010 and 2011.
The committee's guidance includes no change to recommendations on breastfeeding and the introduction of solid foods. SACN recommends babies are exclusively breastfed until around six months of age and continue to be breastfed for at least the first year of life. Solid foods should not be introduced until around six months to benefit the child's overall health.
SACN concluded delaying solid foods to around six months is not associated with later difficulty in accepting solid foods. "The idea of a 'critical window' between four and six months is not supported by the evidence," Public Health England said.
The committee has recommended breast milk, infant formula and water should be the only drinks offered between six months of age and a year, although it said cows' milk should not be given "as a main drink, as this is associated with lower iron status", Public Health England said.
The agency said SACN had advised "a wide range of solid foods", including foods containing iron, should be introduced alongside breastfeeding "from around six months of age". It added: "These foods should have different textures and flavours and may need to be tried several times before the infant accepts them, particularly as they get older."
SACN has recommended a "strengthening" of the advice on the introduction into infants' diets of peanuts and hens' eggs. Guidance should be issued on bringing in those foods from around six months and their exclusion from diets beyond six to 12 months "may increase the risk of allergy", Public Health England said.
Dr Alison Tedstone, the chief nutritionist at Public Health England, added: "The SACN report reinforces existing advice on infant feeding in relation to breastfeeding and the introduction of solid foods. In new advice, it provides clear guidance on the introduction of allergenic foods.
"SACN's robust advice puts to bed any arguments about a beneficial effect of [the] early introduction of solid foods."