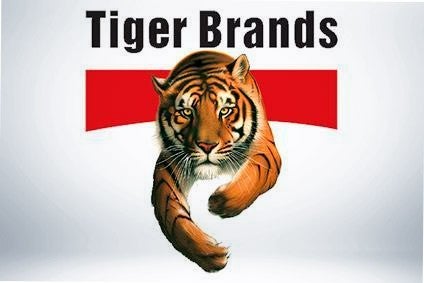 Tiger Brands, the South Africa-based consumer goods group, today (24 May) reported improved half-year sales and earnings.
Group turnover was up 9% at ZAR15.9bn (US$1bn) for the six months to the end of March.
Operating income rose 7% to ZAR2.1bn.
Tiger Brands' net income stood at ZAR1.69bn, up from ZAR1.54bn a year go. The company's earnings per share also increased 7%, reaching 1,021 cents.
The metrics were reported from continuing operations, excluding the Nigerian business Tiger Brands offloaded last year.
"The outlook for the balance of the year remains challenging, with downside risk to the macro-economic environment, both in South Africa and in a number of African markets, likely to add further pressure on consumers," Tiger Brands said. "This will be exacerbated by increased inflationary pressures in the second half, when the full impact of the rand`s depreciation on the group´s domestic cost base will be felt. Against this background, we remain focused on the quality and strength of our brands and on our ability to deliver value to our consumers in a cost-effective manner. The key challenge will be to maintain volume momentum notwithstanding price increases that are currently being taken to partly offset the cost pressures referred to above."
Tiger Brands' operating performance by division – selected results
Grains
– Turnover up 10% at ZAR6.2bn
– Operating income declined 1% to ZAR881m
Tiger Brands pointed to "significant inflation" in input costs and "intense competition"
Consumer Brands – Food
– Turnover increased 8% to ZAR5.8bn
– Operating income grew 4% to ZAR609m
Snacks & Treats unit saw operating income slide 12% amid lower volumes, as well as "supply constraints" in gums and jellies.
Tiger reported "good volume growth" for its groceries, beverages, out-of-Home and value-added meat product categories.
Exports and International
– Turnover up 8% at ZAR2.6bn
– Operating income jumped 34% to ZAR292m.
Tiger pointed to "turnaround" in performance of Kenyan arm Haco, which has been under some scrutiny in recent quarters.
The group's exports business was negatively impacted by local currency devaluation and foreign currency shortages in a number of African countries, resulting in a slowdown in customer demand.