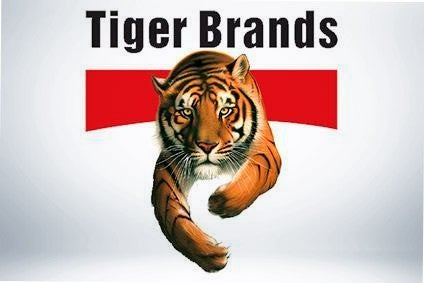 South Africa-based consumer goods group Tiger Brands today (25 May) booked increased half-year sales but reported mixed profit numbers.
Group turnover for the period ended March increased 7% over the year-ago period to ZAR16.4bn (US$1.2bn). Operating income was up 10% to ZAR2.2bn.
Headline earnings per share (HEPS) were 1,036 cents versus 974.6 cents previously due to the inclusion of capital profits from associates and the profit on disposal of its TBCG (Dangote Flour Mills) business of ZAR50m in the comparative period.
Profit dipped to ZAR1.69bn versus ZAR1.7bn in the year-ago period.
The company said its "strong domestic performance was partially diluted by tough trading conditions in exports and international coupled with a decline in income from associates".
Turnover growth was driven by pricing, with volumes declining 3%. "There was positive operating leverage as a result of improved pricing and efficiencies, particularly in the domestic business," Tiger said.
Turnover from Tiger's domestic business increased to ZAR14.3bn in the period compared to ZAR13.2bn previously, growth the company said was driven primarily by its grains division.
The turnover from Tiger's export and international division was "unchanged" at ZAR2.1bn. The operating income from the unit decreased by 25% to ZAR194m amid a lack of foreign exchange liquidity in some of the company's export markets, the "strict imposition" of credit terms and an "unfavourable" product mix.
Tiger said the outlook for the rest of the year "is particularly challenging, with volumes in the domestic market having significantly slowed in the second quarter, while a recovery on the balance of the continent is not imminent".
The "key challenge will be to manage market share and volume growth without compromising profitability", the company said. "This will be driven by focused execution, targeted marketing investment to sustain the strength of the company's power brands and appropriate cost control measures." Tiger said its associate companies "face similar challenges" in 2017.