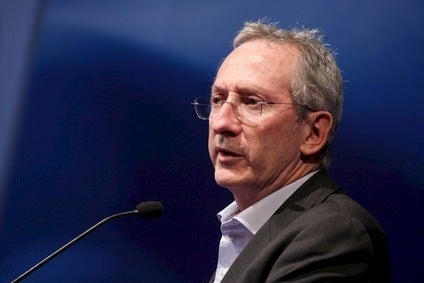 Franck Riboud is to step down as CEO of Danone after 18 years at the helm of the French food giant. just-food takes a look at the highs and lows of Riboud's tenure.
May 1996
Riboud, then 40, becomes chairman and CEO of Danone. He joined the company, then named BSN, in 1981. After eight years in management control, sales and marketing, he took a job looking at new opportunities in the biscuits sector in 1989. In 1992, Riboud became head of group development.
January 2002
Danone buys New Zealand group Frucor Beverages.
February 2002
Danone sells Italian cheese business Galbani to BC Partners for EUR1.02bn.
January 2004
The company becomes the majority shareholder in US organic yoghurt producer Stonyfield Farm.
It also adds to its biscuits business in Russia, through the purchase of Chok and Rolls from Chupa Chups.
April 2004
Danone and Japanese probiotic group Yakult announce a "strategic alliance". The French group already holds a 20% stake in Yakult but the companies agree to work on areas including R&D.
July 2005
Rumours swirl that PepsiCo is eyeing a takeover bid for Danone. The French government wades in, vowing to protect what it saw as "French interests".
September 2005
Danone deny it is in talks with PepsiCo. Riboud confirms his opposition to a deal and insists the French government should intervene if a bid materialises.
December 2006
Danone signs a deal with China Mengniu Dairy to create a fresh dairy products venture in China.
April 2007
Tensions emerge over Danone's venture in India. The Wadia Group is reportedly preparing legal action against Danone, its partner in Britannia Industries, over the company's use of the Tiger biscuit brand in other international markets.
June 2007
Danone files a lawsuit against a drinks venture partner in China. The dispute lasts over two years, with a series of claims and counter-claims, until Danone sells its 51% stake in the venture.
September 2007
Danone announces takeover bid for Dutch infant formula business Numico, valuing the business at EUR12.3bn.
October 2007
After four months of talks, Danone agrees to sell its biscuit and cereal products business, including brands like Lu, to Kraft Foods.
December 2007
Danone announces the end of its Chinese fresh dairy products venture with Mengniu. Conditions for further investment had not been met, Danone said.
2008
Riboud adds the role of chairman to his job as CEO.
October 2008
Danone sells New Zealand drinks subsidiary Frucor to Japan's Suntory.
April 2009
After a strained two years, Danone and Wadia Group end their Indian joint venture. Danone sells stake in Britannia and decides to go it alone in India.
June 2010
Danone merges fresh dairy products in Russia and the CIS business into Russian firm Unimilk. Russia becomes Danone's largest market by sales.
February 2011
The company's first major deal in India since going solo in the country. Danone buys local group Wockhardt's infant nutrition business for around EUR250m.
June 2012
Danone surprises market with profit warning, blaming challenges in southern Europe.
February 2013
Danone confirms 900 jobs are to go in Europe in a bid to improve its performance in the region.
Later in the month, the company announces it has upped its stake in Moroccan dairy firm Centrale Laitière to 67%.
May 2013
Danone buys 90% of US baby food business Happy Family.
A week later, Danone announces it is to join forces again with Mengniu. The two companies combine their yoghurt assets in the country. Danone agrees a second venture with Mengniu's largest shareholder, state-backed COFCO. That deal sees Danone take a 4% stake in Mengniu.
October 2013
Another profit warning from Danone in the wake of a recall of infant formula products in Asia after a botulism scare at ingredients supplier Fonterra.
Later in the month, Danone announces the acquisition of African dairy firm Fan Milk International through a deal with private-equity firm The Abraaj Group.
January 2014
Danone says it will start legal proceedings against Fonterra over the botulism recall. The scare turned out to be a false alarm but Danone estimates the recall cost it EUR350m in sales.
June 2014
Three plants in Europe are to close amid stagnant sales, Danone announces.
July 2014
Another deal in Africa. Danone buys 40% of the holding company of Kenya-based dairy products firm Brookside