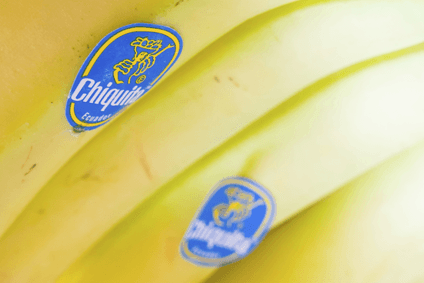 Chiquita Brands International, which had lined up a merger with fellow banana supplier Fyffes, has become the subject of takeover interest from Brazilian firms Cutrale Group and Safra Group. And that interest is developing into a tussle for the future ownership of the US produce giant. just-food provides a digest of the most significant events so far.
27 October: Chiquita Brands International's board accept the US$14.50-a-share takeover offer from Brazilian juice maker Cutrale Group and investment firm Safra Group. "We are pleased with the substantial value and significant all-cash premium we have delivered through this exciting agreement with the Cutrale Group and the Safra Group," Chiquita CEO Ed Lonergan insists.
24 October: Chiquita investors reject the company's plans to combine with Fyffes. Lonergan says the US group would now "engage" with Cutrale and Safra on their US$14.50-a-share bid for the business. Fyffes executive chairman David McCann insists the company is "confident" it will "remain at the forefront of the global produce industry".
23 October: Twenty-four hours before Chiquita shareholders are to vote on the company's merger with Fyffes, Cutrale and Safra come back to the table with a revised "definitive offer" of US$14.50 per share.
21 October: Investor advisory firm Glass Lewis reiterate their belief Chiquita shareholders should vote against the US group's plan to merge with Fyffes. "We find the board relies quite heavily on estimated NewCo values unsupported by market trends, questionable methodologies intended to undermine the perceived value of the Cutrale/Safra bid and an adamant commitment to press its own deal forward despite potential greater options are available to Chiquita," it said. The news cheers Cutrale Group and Safra Group, three days before Chiquita shareholders are set to vote on the plan to combine with Fyffes.
With the clock ticking to the vote, Chiquita issued a statement to "set the record straight" on the "inaccurate and misleading statements" from Cutrale and Safra. "Chiquita's board of directors is solely focused on maximizing value for all Chiquita shareholders. In contrast, Cutrale / Safra appears only interested in acquiring Chiquita for the lowest possible price without adequately compensating Chiquita shareholders," Chiquita president and CEO Ed Lonergan said.
20 October: Hours later, Cutrale and Safra nibble back, refuting the comments from Institutional Shareholder Services. "ISS has predicated its recommendation on a wholly dubious 2016 EBITDA for Chiquita that was provided to it by the company. This 2016 EBITDA utilizes Chiquita's unrealistic stated growth rate of 15% on top of the company's unsupportable base projections for its 2014 EBITDA. Chiquita's projections bear no relationship to its historical or current performance," the bidders said. Cutrale and Safra also said a "major" Chiquita shareholder, Wynnefield Capital, had issued a press release criticising the produce group's plan to merge with Fyffes.
20 October: Independent proxy voting and advisory firm Institutional Shareholder Services changes its mind on its previous recommendation Chiquita should not push forward plans to merge with Fyffes. ISS is now advising its clients to vote for the deal. "While the Cutrale/Safra cash bid appears to offer relative certainty of value, it does not appear to offer a sufficient premium to the value of the ChiquitaFyffes combination, as indicated by present value of 2016 EBITDA and free cash flow multiples. As the target board's response to the unsolicited bid appears to have been appropriate – leading, ultimately, to improvements in both offers prior to the definitive shareholder vote – there does not appear to be any credible evidence the Chiquita board has not been acting in shareholders' best interest." Lonergan said he was pleased ISS recognised the "increased value" Chiquita shareholders were getting under the revised offer.
17 October: Cutrale and Safra responds to the rejection: "The Chiquita Board of Directors is significantly deceiving and misleading Chiquita shareholders about both the Cutrale-Safra definitive offer and the Fyffes transaction. The Chiquita Board's decision to reject the superior Cutrale-Safra $14 per share all cash offer continues the Board's track record of value destruction for Chiquita shareholders. Cutrale-Safra insists its is the superior offer and accuses the Chiquita board of "turning a blind eye" to the best interests of Chiquita shareholders.
17 October: Chiquita rejects the takeover advance from Cutrale and Safra, insisting the improved offer is still not in the best interests of shareholders. "The ChiquitaFyffes transaction maintains the shareholders ability to realise significantly greater value than $14.00 per share," Chiquita insisted. Athlos Research analyst Jonathan Feeney concurs that if the ChiquitaFyffes transaction goes ahead the combined entity would be valued above the offer from Cutrale and Safra.
16 October: Fyffes dismisses the new takeover bid from Cutrale and Safra for Chiquita. David McCann, Fyffes' chairman, said the Irish group's proposal to merge with Chiquita "remains superior" to the new offer from the Brazilian bidders.
16 October: Fyffes dismisses the new takeover bid from Cutrale and Safra for Chiquita. David McCann, Fyffes' chairman, said the Irish group's proposal to merge with Chiquita "remains superior" to the new offer from the Brazilian bidders.
15 October: Cutrale and Safra up their takeover bid for Chiquita. The companies submitted a "definitive offer" to acquire Chiquita for US$14 per share, up from the original $13 per share bid in August that the produce giant rejected. They argued the new offer represented a "highly attractive premium" of approximately 40% to the market's valuation of Chiquita's proposed merger with Fyffes.
14 October: Chiquita announces it expects to book higher third-quarter sales and comparable earnings. In a preliminary results release, Chiquita said it anticipates third-quarter sales will rise to US$739m, up from $723m a year earlier. Adjusted EBITDA is likely to fall in a $25-27m range, compared to $18m in the third quarter of 2013, the company added.
10 October: Shareholders in Chiquita have reportedly lodged a class-action lawsuit in a bid to scupper the merger with Fyffes. A pension fund for firefighters in Birmingham, Alabama – a shareholder of Chiquita – is suing the firm for alleged "breaches of fiduciary duty" by accepting the terms of the merger, which, it says, would result in the bulk of management control of the merged firm, going to Fyffes. The pension fund alleges the merger is unenforceable as it favours Fyffes. It wants an injunction to stop the Chiquita vote which is scheduled for 24 October.
3 October: The European Commission grants clearance for the proposed merger between Fyffes and Chiquita Brands International. "This regulatory clearance represents a significant milestone for our proposed transaction to create the number one banana company globally," said Ed Lonergan, Chiquita's CEO, and David McCann, Fyffes executive chairman, in a joint statement. "We have worked closely with the European Commission to address any concerns, and today's decision reaffirms our confidence that the combination of Chiquita and Fyffes is a natural strategic partnership, one that is now assured of a clear timeline to completion before the end of the year."
26 September: Athlos Research's analyst Jonathan Feeney says: "Frankly, we think the most compelling option for Chiquita or the combined ChiquitaFyffes would be selling the salad business, keeping most if not all of the $60m in synergies, which could potentially drive around $20 per share in value. An EBITDA range for [the] salads and healthy snacks [division] between our 2015 forecast (circa $65m) and management guidance ($90m) would suggest perhaps $500 to $800m in after-tax value for the business given where comparable assets have traded. While it's certainly had its ups and downs, we suspect a third-party would consider it based on red hot fresh food trends".
26 September: Cutrale and Safra respond to the revised merger terms set out by Chiquita and Fyffes. "Fyffes continues to use a game plan of trying to hoodwink Chiquita investors with ongoing rejiggered information, ranging from suddenly found cost savings to illustrative stock price valuations to rescrambled combination terms."
26 September: In a bid to win the support of Chiquita shareholders, Chiquita and Fyffes announce changes to the terms of their planned merger deal. Investors in the US firm would take 59.6% of the combined entity, up from 50.7%. The companies also raised the fee payable to Fyffes if the merger does not go ahead and. Shareholder votes lined up for 3 October have been pushed back to later in the month.
25 September: The European Commission is reportedly poised to give "phase one clearance" to the Fyffes-Chiquita merger. According to Reuters, citing industry insiders, Brussels' approval will have some conditions attached. The Commission is due to report its decision by 3 October, the same date that Chiquita shareholders are set to vote on the merger proposal.
18 September: Cutrale and Safra hit back at yesterday's presentation, adding it was "nothing more than a desperate attempt by Fyffes to salvage its proposed transaction with Chiquita Brands International". The Brazilian bidders said: "It is no wonder that Fyffes is desperate to salvage this transaction, given the transaction provides Fyffes with management control of the proposed combined ChiquitaFyffes, and a 67% premium to Fyffes shareholders. Fyffes now predicates the purported merits of its transaction on a highly dubious and misleading, undiscounted "illustrative price," a speculative future value it has concocted."
17 September: Fyffes announces it is filing an investor presentation with the US Securities and Exchange Commission, supporting its rationale for a proposed tie-up with Chiquita. The company highlights the deal "offers a value-maximising opportunity for Chiquita shareholders". It says "Fyffes has a strong track record of growth and consistent outperformance of earnings guidance" and claimed the deal combines "two complementary companies with long histories and great reputations to create the leading global produce company".
16 September: Chiquita and Fyffes say they are in talks with the European Commission over "possible limited commitments" with a view to getting clearance for their planned merger. The proposed commitments are "not expected to have a material impact upon the commercial rationale for the transaction", Chiquita says. It adds: "While there can be no assurances, Chiquita and Fyffes remain of the view that there is a good prospect that their proposed transaction can be cleared by the European Commission during its Phase I review."
10 September: Chiquita announces it will allow Brazilian bidders Cutrale Group and Safra Group to conduct due diligence on the produce giant. The US group relaxes some of the conditions it had set out on any talks with Cutrale and Safra.
9 September: Cutrale and Safra hit out at Chiquita, insisting the company has laid down "absurd and unacceptable" conditions for talks to take place over a possible takeover.
9 September: One Wall Street analyst says a higher bid could be on the cards. "Now that the companies are more engaged, a higher bid from Cutrale/Safra is quite likely, along with a raised possibility of a sweetened offer from Fyffes or a potential new bid," says Jonathan Feeney, analyst at Athlos Research. "While the variables of the banana business are many, there are but a few bidders knowledgeable enough to take on its vagaries, and they are unlikely to change their mind in the days ahead. On the other hand, the sustainable EBITDA of the salad business remains the key point in the value debate, and management's public projections would indicate a much higher value ( circa $20) for CQB as a whole."
9 September: Fyffes grants Chiquita a waiver that allows the US group to hold talks with Cutrale and Safra. The prospective merger partners postpone their shareholder meetings to vote on the combination until 3 October.
5 September: Chiquita says another two "leading" proxy advisory firms, Glass Lewis & Co and Egan-Jones have also "recommended to their subscribers to not vote for the Fyffes transaction" and to vote to adjourn the meeting. "We believe the board has failed to credibly establish that the Fyffes merger of equals deal is so clearly compelling – or, perhaps more significantly, that the Cutrale/Safra take out offer is so clearly inferior," said Glass Lewis". Egan-Jones added: "The Cutrale-Safra Negotiation Proposal provides Chiquita shareholders a risk free option with unquestionably superior value".
5 September: Chiquita confirms "leading-proxy firm" ISS has recommended its clients vote against the proposed ChiquitaFyffes transacion and vote for the adjournment of the Special Meeting of Shareholders on 17 September using the Gold Proxy Card. Cutrale-Safra said it was "pleased" with ISS's reccomendation. Chiquita says it is "disappointed" with the recommendations. "The Chiquita Board continues to believe that the contingent and conditional $13.00 per share proposal from Cutrale / Safra is inadequate and that the long-term value of the proposed combination with Fyffes exceeds $13.00 per share," it says in a statement.
5 September: Shareholder advisory firm Institutional Shareholder Services urges Chiquita not to press forward with plans to merge with Fyffes. The Wall Street Journal reports ISS has asked Chiquita shareholders to adjourn a meeting planned for 17 September to vote on the deal to push the company's board to "engage with other bidders" and pursue a potentially higher offer.
3 September: Cutrale-Safra says the "set the record straight" letter from Chiquita is "further evidence of both Chiquita's fear that its own shareholders prefer the Cutrale-Safra compelling US$13 per share cash certain proposal to Chiquita's proposed business combination with Fyffes, and Chiquita's own recognition of the risks inherent in this combination". Cutrale-Safra argues Chiquita and Fyffes is attempting to "mislead" shareholders and the bidders argue investors should opt for the "riskless" option of its takeover bid.
2 September: Chiquita sets the "record straight" in a letter with shareholders regarding its proposed tie-up with Fyffes saying Cutrale-Safra has had "ample opportunity to submit a revised proposal" for the acquisition of Chiquita after its first offer was rejected but "has chosen not to do so". Chiquita says the US$13.00 per share offer is "an inferior alternative to ChiquitaFyffes and that the proposal itself is opportunistic, at a low premium and based off an artificial low in Chiquita's stock price".
2 September: Fyffes "corrects inaccurate information released by Cutrale/Safra" and insists there is no certainty the Brazilian suitors' bid "preserves optionality for Chiquita shareholders". The Ireland-based firm adds it is a "stable business", with an experienced team of executive directors and has a "proven track record in growing its business".
27 August: Chiquita and Fyffes raise their forecasts for the synergies they expect their merger to create. The banana firms, which announced plans to merge in March, said they are now targeting US$60m in annualised pre-tax cost savings by the end of 2016, up from previous guidance of $40m. The companies added 50% of these savings should be realised in the first year as the combined ChiquitaFyffes.
18 August: Cutrale and Safra appeal to Chiquita's investors to vote against the planned merger with Fyffes. They question Chiquita's past financial performance and its record in integrating other businesses. The suitors point to the "integration difficulties" Chiquita had when it acquired the Fresh Express business from Performance Food Group in 2005. They also cast doubt on Chiquita's claim a merger with Fyffes would lead to annual pre-tax synergies of US$40m by the end of 2016.
15 August: Following Chiquita's rejection of the Cutrale-Safra bid, the suitors argue the move is a sign of the produce giant's record of destroying value for investors and say they are "extremely disappointed" with Chiquita's decision and will weigh up how to allow the fruit group's shareholders to put pressure on the company to enter into talks.
15 August: Chiquita turns down a takeover bid by the Cutrale Group and Safra Group for US$13 per share. The firm said the bid is "inadequate" and not in the best interests of Chiquita shareholders. Chiquita reaffirms its commitment to completing its transaction with Fyffes which it claims "will create a combined company that is better positioned to succeed in a highly competitive marketplace, while driving strong performance and value for shareholders".
11 Aug: Juice maker Cutrale Group has teamed up with Brazilian investment firm Safra Group to table a takeover bid for Chiquita Brands International, which is set to merge with produce supplier Fyffes. Cutrale and Safra have put together an offer for Chiquita worth US$13 a share, a bid they said was "a highly compelling premium" to how the market values the US produce group's proposed transaction with Fyffes. "This platform offers Chiquita extensive experience in all aspects of the fruit and juice value chain. After the acquisition, Chiquita will benefit from the vast experience and knowledge of farming, processing, technology, sourcing, distribution, logistics, and marketing of the Cutrale Group," the two said in a letter to Chiquita chair Kerrii Anderson and CEO Ed Lonergan.
10 March: Chiquita Brands International and Fyffes announce plans to merge. The stock-for-stock transaction will see investors in US-based Chiquita own around 50.7% of what will be called ChiquitaFyffes. Shareholders in Ireland's Fyffes will own the other 49.3%. The two companies said the deal would create a company generating around US$4.6bn in annual revenue. Chiquita CEO Ed Lonergan, who will be the chairman of the new business, said the "milestone transaction" would "create significant value" for the company's shareholders.