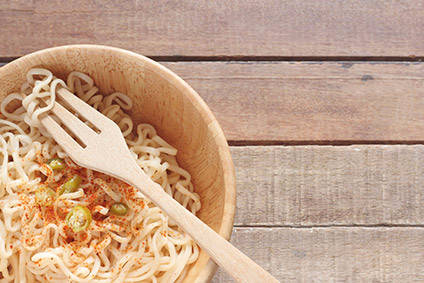 Tingyi Holding Corp., the Hong Kong-listed food and beverage group, has reported a slump in first-half profits, with work to "upgrade" its flagship noodle products and higher input costs weighing on earnings.
The company booked a 64.8% fall in profit attributable to owners of the company to US$11.7m for the six months to the end of June. EBITDA was down 41.1% at $206m.
The fall in profits was in part due to a 18% slide in revenue to $2.09bn.
Profits from instant noodles, Tingyi's second-largest business by sales, tumbled more than 60%. Revenue from the division fell 14% to US$1.54bn, which combined with an increase in raw materials and investment in brand-building hit the unit's profitability.
During the first half, as Tingyi worked on "upgrading" its noodle products, a competitor introduced "similar packaging to cause confusion to [the] consumer", Tingyi said, which led the company to relaunch its Classic Series line in May.
Tingyi said revenue from instant noodles has "rebounded steadily on a year-on-year basis" since June. It also pointed to AC Nielsen data that it said showed its Master Kong instant noodle brand had maintained its market share in the January-to-June period.
Profits from beverages, Tingyi's biggest business by revenue, fell 70.2% on the back of a 14.4% decline in sales. Tingyi pointed to an "adjustment in channel inventory".
Revenue from Tingyi's smaller instant food business, which sells products including biscuits and crackers, fell 6.1% to $62.8m. However, it managed to increase gross margins from instant food amid a focus on costs and a decline in raw material prices. The division recorded a first-half loss of $6.4m, but that was almost half that generated a year earlier.