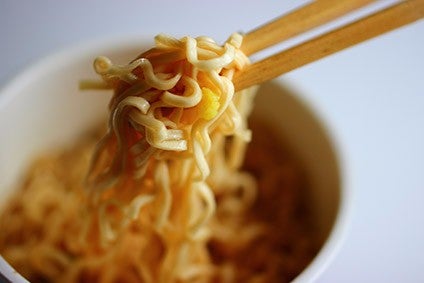 Tingyi Holding Corp., the Chinese maker of Master Kong noodles, pointed to a focus on its "core" products and on controlling costs as factors in its rising first-half increase in sales and profits.
The Hong Kong-listed company, which also has businesses in beverages including teas and juices, said yesterday (21 August) revenue across the group rose more than 4% to CNY28.6bn (US$3.6bn) in the six months through June from a year earlier.
While Tingyi noted cost pressures in raw materials prices linked to China's economic growth, it booked a 49% increase in profit to CNY592m, helped by lower distribution and administrative costs. EBITDA climbed 5% to CNY3.2bn.
In the noodle sector, where prices of flour and palm oil rose, revenue was up 1.8% at CNY10.3bn and accounted for almost 36% of group sales. Profit from the division rose 34% to CNY532m.
Revenue from Tingyi's smaller instant food business, which sells products including biscuits and crackers, dropped 3.2% to CNY397.9m. The losses generated by the division fell from CNY42m a year ago to CNY14.7m.
On a quarterly year-on-year basis, Tingyi's group revenue increased almost 5% to CNY14.4bn and EBITDA climbed 19% to CNY1.6bn. Profit was up 243% at CNY405m.
Looking ahead, Tingyi said: "We would introduce multi-price strategy to meet with the rise of middle-class consumption trends, and to further optimise our product in order to maintain an effective revenue management."