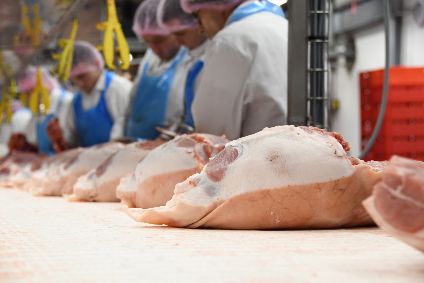 German meat processor Tönnies, which was hit by a large-scale outbreak of Covid-19 at one of its meat plants last month, has announced it will no longer be using sub-contracted labour.
Instead, Tönnies intends to hire 1,000 new permanent employees.
German meat processors have faced criticism for using sub-contracted workers, many of them migrants from eastern Europe living in cramped conditions which, it is suspected, helped facilitate the spread of the virus.
Last month, more than 1,000 workers from a Tönnies meat plant in Gütersloh in north-west Germany tested positive for Covid-19 and become a factor in a spike in the R, or reproduction, number of the virus in the country.
The outbreak was described as "massive" by Chancellor Angela Merkel's chief spokesperson.
Earlier this month the meat factory at the centre of the outbreak was reportedly ordered to stay closed until 17 July.
Now, in a newly-released statement, Tönnies, one of the largest meat processors in Europe, said it will abolish all work contracts in the areas of slaughter, cutting and processing by the end of the year.
"In a first step, we will directly hire 1,000 employees for a pilot project by September 30, and thus import workflows and processes. This is followed by the entire implementation at all German locations by the end of the year," the company said.
Clemens Tönnies, managing partner, added: "We are tackling this crisis at the top. These first results are only the first step to prove that we are serious and work hard to meet the new requirements from politics and society."