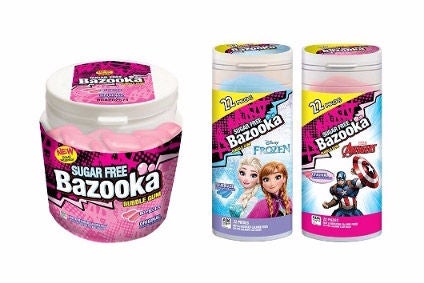 US confectioner The Topps Company is launching sugar-free gum under its Bazooka brand.
The new line is available in the US in formats including a "to-go cup" containing 60 pieces of sugar-free gum, as well as a pull-out comic featuring a variety of games and puzzles. Topps is also selling the gum in "slim tubes" containing 22 pieces of gum and a tie-in with Disney's Frozen and Marvel Avengers. The original flavour slim tube features Captain America from Marvel's Avengers, while the Blue Razz flavour slim tube features Anna and Elsa from Frozen, the company revealed.
"Bazooka Bubble Gum has always connected gum and entertainment through its iconic flavour and fun comics," said Nicole Rivera, marketing director for Bazooka Candy Brands. "Through our collaboration with Marvel and Disney, we are excited to introduce Bazooka sugar-free to a whole new audience."
Topps' Bazooka Candy Brands unit has launched a national integrated marketing and promotional campaign that including television advertising. Bazooka sugar free is available now in select grocery, convenience, specialty, and dollar store chains throughout the US.
The new candy is accredited by the American Dental Association.