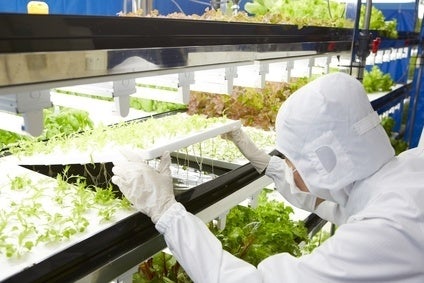 Electronics group Toshiba Corp. has announced its debut into the food sector with the launch of its first vegetable production site.
The Japanese firm has started production of vegetables at the Toshiba Clean Room in the city of Yokosuka.
The plant grows vegetables in "close to sterile conditions in almost germ-free cleanrooms", which is said to extend the shelf-life of vegetables. It is expected to produce an annual output of three million bags of leaf lettuce, baby leaf greens, spinach, mizuna and herbs. Toshiba Corp. is targeting annual sales of JPY300m (US$2.7m) from the venture.
A spokesperson for the firm told just-food it was looking to list in Japanese retail stores "as soon as possible" and was presently engaged in talks with supermarkets and convenience stores. He declined to disclose further information regarding possible listings.
The factory is equipped with technologies from across the Toshiba group, including fluorescent lighting with an output wavelength optimised for vegetable growth; air-conditioning systems that maintain constant temperature and moisture level; remote monitoring systems to track growth; and sterilisation systems for packing materials.
"We have many businesses," said the spokesperson. "When we combined these techniques and businesses it allowed us to start a new business. Our president wanted to start a completely new business – this was one of them. It was one area that our existing techniques can most contribute to," he added.