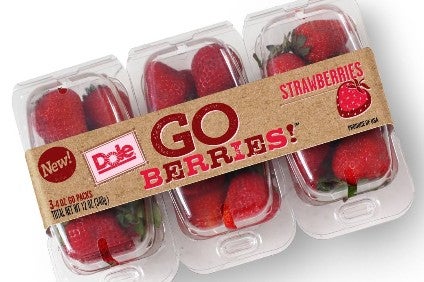 Total Produce, the Ireland-based fruit and veg giant, has struck a deal to acquire 45% of US-based peer Dole Food Co.
The "binding agreement", announced today (1 February), comes weeks after talks Dole was having to potentially sell its business to Belgium-based fresh, canned and frozen produce group Greenyard broke down.
Total Produce is to pay Dole owner David Murdock US$300m for the stake. The 94-year-old Murdock, who took Dole private in 2013, will remain the company's chairman.
Announcing the deal, Total Produce claimed there was a "compelling strategic rationale" for the investment.
"Dole's strong presence in North America will complement Total Produce's position in the European market. Dole has leadership positions in a number of its core product categories including bananas, pineapples, fresh vegetables and grapes that will align with Total Produce's product mix," Total Produce said in a stock-exchange statement.
Carl McCann, Total Produce's chairman, will become Dole's vice chairman. He said: "I believe that this investment by Total Produce in Dole is the single most positive step in our company's history. It places Total Produce at the forefront of our industry, and we anticipate it will create significant additional value for shareholders in the years ahead."
Under the terms of the deal announced today, there are two steps through which Total Produce could buy Dole outright.
A "second tranche" sees Total Produce have the right to acquire up to an additional 6% of Dole. Total Produce said it had "no present intention" to become the majority investor in Dole but said the total it would pay for the 51% stake would be $312m.
Following the second anniversary of the completion of Total Produce's purchase of the initial 45%, the company has the right to acquire the balance of Dole's common stock.
The payment of this "third tranche" is to be calculated based on nine times the three-year average of Dole's adjusted EBITDA, less net debt.
However, the companies have agreed the payment for this tranche would not be less than $250m or exceed $450m – and could be paid in cash or, if agreed, Total Produce stock.
The board of Dole is to comprise six members – three appointed by Murdock and three by Total Produce.
Murdock first took Dole private in 2003 after rescuing the fruit and vegetable supplier from bankruptcy in 2001. He re-listed Dole in 2009, before buying back the business in 2013. Some investors thought the price Murdock offered was too low, sued and won an additional payment per share.
In April last year, Dole filed plans in the US to list again on the stock market. By September, reports in the US claimed Dole was considering a sale of the business. The week before Christmas, Greenyard announced it was in "advanced talks" to buy Dole. On 5 January, Greenyard revealed the negotiations had ended.
On the deal with Total Produce, Murdock said: "Both Dole and Total Produce have a standard of perfection that leads the industry in innovation, together we will further our joint mission of providing the highest quality produce to the world."