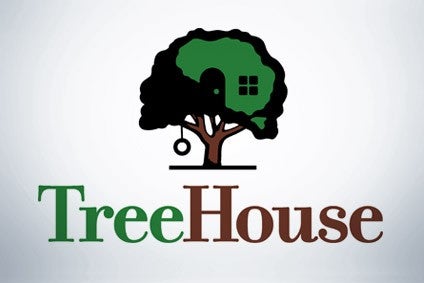 TreeHouse Foods, the largest private-label supplier in the US, has confirmed it plans to sell-off its snacks business as part of a strategy to boost profit margins and streamline operations.
The Illinois-based firm was in November said to be reportedly mulling a sale of its snacks and trail mixes operations under Flagstone Foods, the company TreeHouse bought in 2014 for US$860m from private-equity fund Gryphon Investors.
And TreeHouse has now confirmed its intentions to eliminate its snacks operations from its portfolio, which would see the company's business units trimmed to four from the current five, as in baked goods, beverages, condiments and meals. It also indicated another $300m in additional divestitures, although those were not disclosed.
In an investor presentation yesterday (11 December), the New York-listed firm said it is undertaking a strategic review of its premium nut and trail mix snacks business, which it estimates will generate net sales revenue in 2018 of $1bn. However, TreeHouse said the planned disposal of those operations does not include snack bars.
Chief executive Steven Oakland is tasked with seeing through the company's 2020 strategy set in motion by his predecessor having only taken the job during the summer. It involves trimming the SKU count and improving profit margins by three percentage points through eliminating low-margin categories.
TreeHouse's presentation said the company wants to create a "smaller, leaner, higher margin and less-leveraged organisation".
But at the same time, the company added it will look to "bolt-on, smaller, synergistic, margin-accretive acquisitions over time".
Oakland already has one business disposal under his belt with the sale in July of McCann's Irish Oatmeal for $32m to US peer B&G Foods. His predecessor Sam Reed had also offloaded TreeHouse's soups and infant foods business known as SIF last year.
TreeHouse is also closing plants as part of its streamlining process, and said yesterday that the SKU count is already down by 27%.
Selling the snacks operation would result in a smaller business with annual sales of around $4.5bn but with a "negligible impact" on earnings per share, TreeHouse said, adding that total group revenues for 2018 are estimated to be around the $5.8bn mark.
And taking what the company called "strategic considerations" into account, the adjusted EBITDA margin is expected to improve by around 200 basis points to 8% to 9%, while EPS would edge down by nine cents to $2.06, from $2.15, excluding snacks and trail mixes, and the additional $300m in divestitures.
TreeHouse said the snacks disposal will allow the company to "focus our resources on fewer, better margin expansion efforts".
And it is seeking to achieve organic growth of 1-2% once the sale is completed. The company also provided preliminary estimates for 2019, with sales revenue of around $5.5bn to $5.8bn, and diluted EPS of $2.35-$ 2.75, from an estimated $2.05-$2.25 in 2018.
"The timing of closure for any potential asset divestitures is uncertain, so the guidance assumes a full-year baseline," TreeHouse said. "While potential asset sales will have a top-line impact, the bottom-line impact should not be material.
"We expect the first half to be down as we lap some volume losses and reshape the portfolio and we anticipate new business wins to be reflected in the back half of the year."