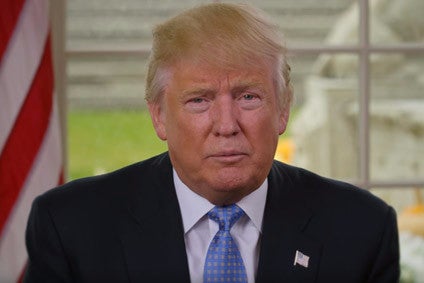 From the UK plumping for Brexit to the US choosing Trump, 2016 looks to have marked the start of a tumultuous period geopolitically and one of uncertainty for business. The most-read analysis on just-food this year included articles looking at how Trump and Brexit could affect the food sector, while in the top ten, came three pieces on Nestle and two on Mondelez International.
In November, Republican Donald Trump beat front-runner Hillary Clinton in the race to become the forty-fifth President of the United States of America. His eleventh-hour election success defied the pollsters as first the key swing state of Florida fell, followed by North Carolina, Ohio and finally Pennsylvania. With big business largely backing Clinton, pundits were framing Trump's win as further evidence of disillusionment with the so-called political and business classes. just-food examined the implications of the election result for the global food sector.
Yildiz Holding announced in January it was restructuring its confectionery and biscuit businesses, uniting the likes of United Biscuits, Ülker and Godiva under a single umbrella subsidiary. The Turkish conglomerate had some ambitious growth targets for the new unit and Katy Askew took a look at whether it could deliver.
Nestle saw its shares fall on 18 February after the world's largest food maker missed analyst expectations on sales and trading operating profit – and disappointed with its guidance for this year. The company's so-called Nestle Model calls for annual sales to grow 5% on an organic basis but the company fell short of that target again in 2015. The group's forecast for 2016 sales was also lower than its "model", although some in the analyst community viewed the target for this year as more realistic. Here was a flavour of how analysts viewed the KitKat-to-Maggi owner's numbers.
This spring, Nestle and R&R Ice Cream finalised plans to combine their ice cream businesses. Katy Askew argued the new joint venture brought a number of benefits and is likely to see an increased focus behind Nestle's ice cream brands.
In June, Nestle appointed Ulf Mark Schneider, CEO of healthcare company Fresenius, as its chief executive officer last month. just-food took a look at what could be on the executive's 'to do' list as he takes the helm at the world's largest food maker.
Uncertainty was the watchword as the UK and the EU digested British voters plumping for Brexit on 23 June. In an exclusive column, analysts at Rabobank set out how they thought the UK's departure could impact certain parts of the food sector.
Mondelez International's shares took a tumble on 3 February on the back of its 2015 numbers and its forecasts for 2016 – and were down again the following day. Chairman and CEO Irene Rosenfeld called the last 12 months "a year of very strong results" and, although conceding volumes would again be under pressure, forecast further improvement in profitability. What should we take away from the figures and from its outlook for the months ahead? Dean Best investigated.
Zero-based budgeting is not a new concept. It was developed around five decades ago by Peter Pyhrr, an account manager at semiconductor firm Texas Instruments. After being taken up by US president Jimmy Carter in the 1970s, the method fell into obscurity. Recent years have seen it experience a revival in the food industry. In a series of articles, just-food examined zero-based budgeting and asked if it is a miracle diet for packaged food companies seeking a shapelier margin profile.
In August, we looked at how consumer demand for natural and organic foods is ballooning in developed markets and how the sector is expanding its appeal to mainstream consumers. As a result, we wrote, the category has disrupted the increasingly fragmented food industry, challenging legacy brands that have seen sales eroded. We took a look at the up-and-coming trends born in the natural food sector that are now ready to tip into the mainstream.
Hershey turned down a takeover approach from Mondelez International in June. At US$107 per share, the cash-and-shares offer valued the Reese's Pieces maker at approximately US$22.83bn. We presented what you needed to know about the potential deal.