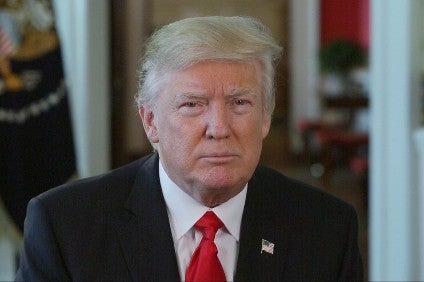 President Trump has set out plans to cut the discretionary spending at the US Department of Agriculture by over a fifth, prompting criticism from the industry and lawmakers from the Democrat and Republican Parties.
Trump's 2018 budget has requested $17.9bn for the USDA, down $4.7bn, or 21%, on 2017.
"The budget request supports core departmental and mission critical activities while streamlining, reducing, or eliminating duplicative, redundant, or lower priority programmes where the federal role competes with the private sector or other levels of government," the budget plans, announced yesterday (16 March), read.
However, Republican Representative Mike Conaway, the chairman of the House Agriculture Committee, issued a note of caution on the plans.
"America's farmers and ranchers are struggling, and we need to be extremely careful not to exacerbate these conditions," Conaway said.
A Democrat Senator, Debbie Stabenow, a ranking member of the US Senate Committee on Agriculture, Nutrition, & Forestry, said she "strongly" opposed the plans.
"It's deeply troubling that the Trump administration targets the Department of Agriculture for cuts averaging 21 percent – the third largest cut to any federal agency," Stabenow said.
"This proposal undermines job creation by eliminating access to credit for small businesses and completely ends rural water infrastructure programmes that could leave small towns without clean drinking water or safe sewer systems.
"The Trump administration neglects to clarify all of the areas that will be cut. This puts a target on hundreds of critical USDA programmes and services that rely on annually appropriated funds, and could lead to cuts as high as 33% to agriculture research and extension, conservation planning, wildfire prevention, and efforts to fight avian influenza and other threats to our food system."