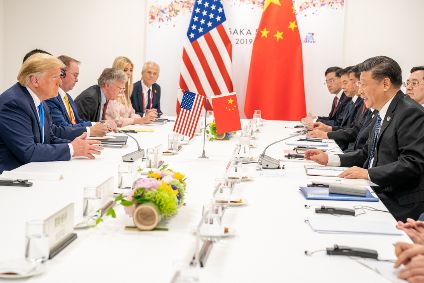 The ongoing tariff saga between the US and China continues, with the latest move seeing President Donald Trump agree to delay the next tariff increase on US$250bn worth of Chinese imports by two weeks.
Trump took to Twitter to announce the news, stating as a "gesture of good will" the increase scheduled for 1 October will now be pushed back to 15 October, when tariffs on selected items with a total import value of $200bn, will rise from 25% to 30%.
Products on the so-called Tranche 3 list, were subject to an additional 10% tariff as of 24 September last year and a further increase to 25% in May. The list, which includes hundreds of food items covering areas such as meat, seafood and fresh produce, was set to see the levy rise to 30% at the start of next month.
At the request of the Vice Premier of China, Liu He, and due to the fact that the People's Republic of China will be celebrating their 70th Anniversary….

— Donald J. Trump (@realDonaldTrump) September 11, 2019
….on October 1st, we have agreed, as a gesture of good will, to move the increased Tariffs on 250 Billion Dollars worth of goods (25% to 30%), from October 1st to October 15th.

— Donald J. Trump (@realDonaldTrump) September 11, 2019
Separately, new 15% tariffs on other food items imported into the US from China came into effect at the beginning of September and are due to be expanded to additional goods on 15 December.
Meanwhile, ahead of the Tranche 4 tariffs, imports at major US retail container ports reached unusually high numbers in July – and are expected to surge again in the run-up to the December increase.