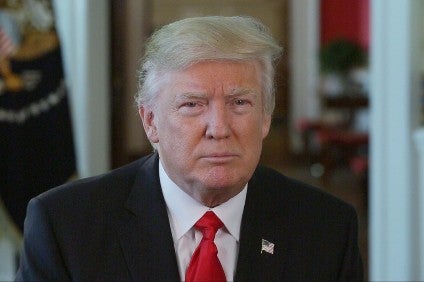 Milk producers in the US have warned an immigration crackdown on undocumented workers by the Trump administration risks "serious implications for both farmers and consumers".
The National Milk Producers Federation (NMPF) said losing "even just a portion" of foreign-born undocumented workers would cause problems for the dairy farming industry because "such a large volume of milk production depends on them".
In a "worst-case scenario", the NMPF said "a complete loss of immigrant labour in dairy farming could cut US economic output by US$32bn, resulting in 208,000 fewer jobs nationwide".
And the federation has warned: "Not only would farm workers be lost, but those further down the value chain whose jobs are tied to crop, produce and livestock production would be at risk."
Since taking office in January, President Donald Trump has signed executive orders "to enhance the public safety of Americans through enforcement of immigration laws". The White House said the order targeted illegal immigrants who had committed crimes.
However, an NMPF spokesperson told just-food today (21 March) that of several executive orders "intensifying the activities of the US and local law enforcement system" on immigration matters… while the primary focus is on identifying and removing convicted criminals, the new policy appears to expand the definition of 'removable criminal alien' and calls for the detention of all removable aliens apprehended. It is not yet clear how these actions will be interpreted and enforced."
According to the spokesperson, employers carry out legal status checks when recruiting, but "in some cases, that documentation misinforms employers about their employees' legal status".
"The labour challenge on American dairy farms has been a problem for more than a decade," the spokesperson added. "NMPF continues to remind our federal lawmakers that any effort to solve the immigration matter will require more than additional enforcement of the law. We also need to ensure farm employers can maintain their existing workforce, and create a viable guest worker programme to ensure a stable, legal workforce in the future."
"Dairy farming is a 365-day-a-year job with significant physical demands and exposure to weather extremes," the spokesperson said. "In some cases, American-born workers do not wish to work in such an environment, even when offered wages and benefits are higher than many other sectors of the economy. As the unemployment rate declines, it has become increasingly difficult to find employees willing to work on many different types of farms, including dairy operations."
According to the NMPF, 51% of an estimated 150,000 employees of US dairy farms in 2014 were immigrants.