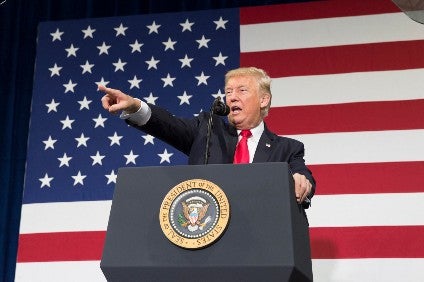 The US looks set to levy more tariffs on imports from China – including on a range of food products – after President Trump indicated frustration at recent talks between Washington and Beijing on a trade deal.
Trump tweeted yesterday (1 August) the US would impose a 10% tariff on an additional US$300bn of imports next month, with shipments including toys, electronics and food. An official list of goods has yet to be published but reports suggest foods including fresh produce, dairy products and olive oil would be affected.
The new levy would come on top of a 25% tariff Washington had already placed on another $250bn of imports from China.
In a series of tweets yesterday, Trump claimed Beijing had tried to "renegotiate" a purported trade deal between the US and China.
Our representatives have just returned from China where they had constructive talks having to do with a future Trade Deal. We thought we had a deal with China three months ago, but sadly, China decided to re-negotiate the deal prior to signing. More recently, China agreed to…

— Donald J. Trump (@realDonaldTrump) August 1, 2019
…buy agricultural product from the U.S. in large quantities, but did not do so. Additionally, my friend President Xi said that he would stop the sale of Fentanyl to the United States – this never happened, and many Americans continue to die! Trade talks are continuing, and…

— Donald J. Trump (@realDonaldTrump) August 1, 2019
…during the talks the U.S. will start, on September 1st, putting a small additional Tariff of 10% on the remaining 300 Billion Dollars of goods and products coming from China into our Country. This does not include the 250 Billion Dollars already Tariffed at 25%…

— Donald J. Trump (@realDonaldTrump) August 1, 2019
…We look forward to continuing our positive dialogue with China on a comprehensive Trade Deal, and feel that the future between our two countries will be a very bright one!

— Donald J. Trump (@realDonaldTrump) August 1, 2019
Speaking to reporters after setting out the plans, the US President was asked if he was concerned about the impact the announcement had had on the Dow.
"No, I'm not concerned about that at all. I expected that a little bit because people don't understand quite yet about what's happened," Trump said, according to remarks posted on the White House website.
"We've taxed China on 300 billion dollars' worth of goods and products being sold into our country. And China eats it because they have to pay it – because what they do is they devalue their currency and they push money out.
"Our people haven't paid, as you know. We're also charging them 25% on $250bn. So we're taking in many billions of dollars. There's been absolutely no inflation. And frankly, it hasn't cost our consumer anything; it costs China."
Trump added: "Now, what has happened is a lot of companies are moving out of China so they can, you know, avoid [the tariffs]. And China has had a rough … this is their worst year in 27 years, according to yesterday's Wall Street Journal. I don't want that.
"But when my people came home, they said we're talking. We have another meeting in early September. I said that's fine but, in the meantime, until such time as there's a deal, we'll be taxing them."
According to US government data, total imports of agricultural products from China were worth $4.9bn in 2018. The US imported some $1.2bn from processed fruit and vegetables, another $222m in snack foods, $167m in spices and $160m of fresh vegetables.
US association The National Retail Federation criticised Trump's plans.
"As we've said repeatedly, we support the administration's goal of restructuring the US-China trade relationship. But we are disappointed the administration is doubling-down on a flawed tariff strategy that is already slowing U.S. economic growth, creating uncertainty and discouraging investment. These additional tariffs will only threaten US jobs and raise costs for American families on everyday goods," David French, the federation's senior vice president for government relations, said.
"The tariffs imposed over the past year haven't worked, and there's no evidence another tax increase on American businesses and consumers will yield new results. We urge the administration to bring our allies to the table and find new tools beyond tariffs to achieve better trade relations."