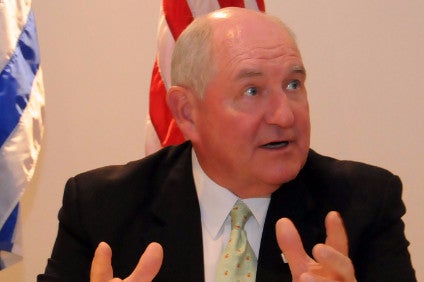 US President-elect Donald Trump has nominated Sonny Perdue, the former Governor of the state of the Georgia, as the Secretary of the country's Department of Agriculture.
Perdue, Georgia's Governor between 2003 and 2011, served on an agricultural advisory committee for Trump during the billionaire's election campaign. The nomination will go before the Republican Party-led Senate.
"From growing up on a farm to being governor of a big agriculture state, he has spent his whole life understanding and solving the challenges our farmers face, and he is going to deliver big results for all Americans who earn their living off the land," Trump said in a statement.
He replaces Tom Vilsack, who served as the Secretary of the USDA during both of President Obama's terms. Earlier this week, it was announced his next post would be to lead the US Dairy Export Council, which seeks to promote the interests of the sector overseas.
Jim Mulhern, president and CEO of the US National Milk Producers Federation, a milk farming association, said he was "excited" to work with Perdue on the "challenges and opportunities" facing the sector.
"America's dairy farmers are looking forward to working with Secretary of Agriculture-designate Sonny Perdue, whose role as the chief advocate for farmers and rural America is absolutely crucial in the new Trump Administration, especially when milk prices have been in a prolonged slump," Mulhern said.
Michael Dykes, president and CEO of the International Dairy Foods Association, which represents US dairy manufacturers, said: "While leading the US Department of Agriculture, Secretary Perdue will oversee many areas that are extremely important to the dairy industry, including the Dietary Guidelines for Americans, the school breakfast and lunch programmes, and, most recently, the national disclosure standard for foods made with genetically modified ingredients. As a fellow veterinarian, I'm confident that Secretary Perdue will bring the necessary knowledge and insight to keep American agriculture, food production and nutrition programmes strong and vibrant."
Speculation had intensified during this week Trump would nominate the 70-year-old Perdue to the post. In a statement issued on Wednesday, Mike Brown, president of the US National Chicken Council, said: "Governor Perdue has a strong record as two-term chief executive of Georgia and is acquainted with a wide array of agriculture commodities, from chicken and peanuts to cotton and timber. As a veterinarian, agribusiness owner and a governor who established an agricultural advisory committee in Georgia, he understands and appreciates the importance of American agriculture both here and abroad. He is a welcomed choice from the 'Broiler Belt'."
One environmental campaign group criticised the nomination. Kari Hamerschlag, deputy director of food and technology at Friends of the Earth, echoing a Trump campaign slogan that referred to his pledge to reduce the influence of lobbyists in Washington and to tackle what he saw as corruption in the nation's political establishment, said: "Rather than draining the swamp, Trump's pick of Perdue to run the USDA puts a career politician and agribusiness CEO in charge of running one of the nation's largest agencies. Given Perdue's position with a global agribusiness trading company and his actions as governor, we are concerned that Perdue will use his position at the USDA to prioritise the profits of big agribusiness and trade over the interests of American farmers, workers and consumers."