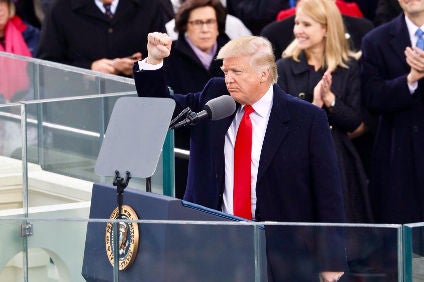 Donald Trump formally removed the US from the Trans-Pacific Partnership trade agreement today (23 January), fulfilling a pledge the US President made during the election campaign.
Trump signed an executive order pulling the US from the TPP deal, an agreement he had criticised as not being in the country's national interest.
"Great thing for the American worker what we just did," Trump reportedly said as he signed the order.
Two weeks after he was elected, Trump said the removal of the US from the pact would be among his first actions upon taking office.
"I am going to issue our notification of intent to withdraw from the Trans-Pacific Partnership, a potential disaster for our country," Trump said on 21 November in a video message posted on YouTube. "Instead, we will negotiate fair, bilateral trade deals that bring jobs and industry back onto American shores."
The TPP was negotiated in 2015 by countries including the US, Japan, Australia, Canada and Mexico. The aim of the agreement was to strengthen economic ties between the countries and boost growth by measures including the reduction of tariffs.
In a joint statement, two US dairy industry organisations "urged" Trump "not to retreat from pursuing new trade opportunities in the Pacific Rim".
"While we recognise that TPP as it now stands has no path forward, we urge the Trump Administration to look for future opportunities to increase our dairy exports in Asia and around the world. Our competitors have been successfully negotiating trade agreements over the past several years. This puts the U.S. agriculture sector at a competitive disadvantage if we don't pursue our own initiatives," Jim Mulhern, president and CEO of The National Milk Producers Federation, said.
Matt McKnight, acting chief of staff at the US Dairy Export Council, said the TPP agreement was "far from perfect" but insisted the deal would have benefited the country's dairy sector "because in addition to new market access, it also made significant progress in focusing on other barriers, including sanitary/phytosanitary standards, as well as the abuse of geographical indications to block competition in common food categories".
Blog: One major investment bank believes US-China trade war unlikely
Trump presidency seen as negative for global food trade – just-food's 2017 Confidence Survey results