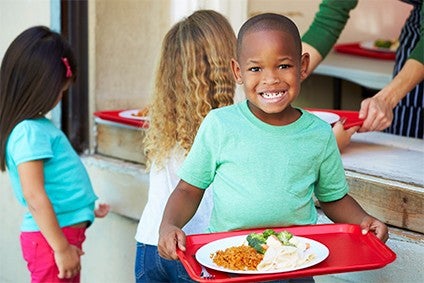 The US government has unveiled a revised school meals policy that relaxes previous target deadlines designed to reduce salt content.
Agriculture Secretary Sonny Perdue said yesterday (1 May) the move would give authorities "flexibility in menu planning", as he directed the US Department of Agriculture to start "the regulatory process to provide schools with additional options" in serving whole grain-rich foods in school meals.
However, campaign group the US Center for Science in the Public Interest (CSPI) warned the move would "freeze progress" on steps towards reducing salt in school meals.
In January 2012, the USDA's Food and Nutrition Service (FNS) published a final rule establishing "new, science-based nutrition standards for the National School Lunch Program and School Breakfast Program".
The rule set a target of reducing the sodium content of meals "gradually over a ten-year period" with two intermediate targets for both breakfast and lunch.
For breakfast for elementary pupils, the first target was for the ingredient to be less than or equal to 540mg, with the second at 485mg. For breakfast dishes for nine to 12-year-olds, the first target was set at 640mg, moving to a second target of 570mg.
The first target for lunches, for 2014-15, said sodium should be less than or equal to 1,230mg for elementary pupils, with a maximum of 1,420mg for children aged nine to 12. The second target for lunches, for 2017-18, set the levels at less than or equal to 935mg and 1,080mg respectively.
However, Perdue announced yesterday for school years 2017-2018 through to 2020, establishments will not be required to meet the second set of targets. Instead, schools that meet the first set of targets will be considered compliant.
Perdue, meanwhile, also said schools would be given "the discretion to serve flavoured, 1% fat milk" for lunch or breakfast.
Margo Wootan, the CSPI's nutrition policy director, said: "Ninety per cent of American kids eat too much sodium every day Schools have been moving in the right direction, so it makes no sense to freeze that progress in its tracks – and allow dangerously high levels of salt in school lunch."