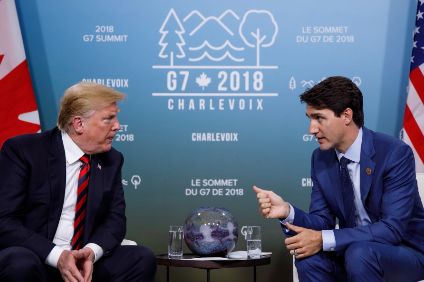 President Donald Trump has threatened to leave Canada out of the ongoing trade negotiations for a deal outside of NAFTA unless Ottawa agrees to new terms.
Talks concluded last week without any agreement after Trump moved closer to securing a revamped trade deal with Mexico, the third member of the North American Free Trade Agreement. Discussions are expected to continue this week.
According to Reuters, the US president tweeted: "There is no political necessity to keep Canada in the new NAFTA deal. If we don't make a fair deal for the US after decades of abuse, Canada will be out".
He added on Twitter: "Congress should not interfere [with] these negotiations or I will simply terminate NAFTA entirely and we will be far better off."
Trump had threatened to leave the trade pact after 24 years because of the US trade deficits with both countries unless he secured more favourable terms to protect US manufacturing and prevent jobs from going overseas.
Last week, the BBC reported Canada Prime Minister Justin Trudeau as saying he had had a "constructive conversation" with Trump since the deal with Mexico was announced.
The US reportedly wants Canada to open up access to US dairy products, extend patent protections for medicines and agree to eliminate international panels to resolve most disputes between investors and governments, according to the BBC.
Canada's system of supply management in the dairy sector – which aims for more stable prices through the co-ordination of production and demand, while controlling imports – has proved a thorny issue, with the US wanting some reform.
On Friday (31 August) – the deadline to present Congress with the details of the new agreements – US officials reportedly said Canada had made no concessions on agriculture and Trudeau was standing firm on the issue. US lawmakers warned that a deal with Mexico could struggle to win approval from Congress unless Canada was also included. Support from the Democrats would be needed to pass a purely bilateral deal, they said.
Chrystia Freeland, Canada's Minister of Foreign Affairs, said at a press conference on Friday she will continue to work for a trade deal that is in the country's best interest. She said she believes a trilateral trade pact that benefits all three countries can be achieved, CNN reported.
"We know a win-win-win agreement is within reach and that's what we're working towards," Freeland said.