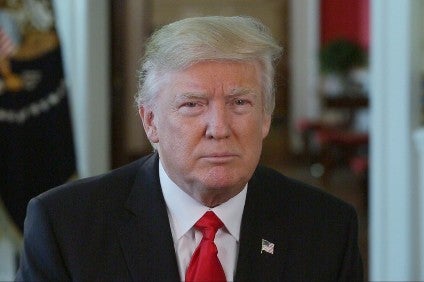 The European Union, Canada and Mexico have retaliated to President Donald Trump's imposition of tariffs on their steel and aluminium exports with plans to slap duties on food imports from the US.
Reaction from some of Trump's key trading partners has been swift, with European Commission President Jean-Claude Juncker saying: "The EU believes these unilateral US tariffs are unjustified and at odds with World Trade Organisation rules. This is protectionism, pure and simple."
At the same time, the EU announced it would push ahead with a disputes case at the WTO against the US metal duties.
The EC immediately published a regulation authorising duties from its members by 16 June once they have been approved, and levies could be in force as early as 20 June.
A Brussels official told just-food that "most, if not all" the products listed on the regulation would be hit, especially "emblematic US products", which may include peanut butter, sweetcorn and orange juice. Those items may attract duties of 25%, the official said.
Other American food exports that are likely to be hit by the EU include rice, kidney beans and maize, although initial plans to impose duties on cranberries appear to have been dropped. Still, cranberry juice shipments will not escape punishment.
Meanwhile, the Canadian government plans to impose its own tariffs on US food stuffs from July 1, with a 10% levy most likely.
The list covers yogurt, prepared meals including poultry and beef, prepared and preserved bovine meat, maple sugar and syrup, liquorice, toffee, chocolate, sugar confectionery, pizza, quiche, cucumbers, gherkins, strawberry jam, nut purées and pastes, soy sauce, tomato ketchup, mustard and mayonnaise.
And the future of ongoing talks to renew the North American Free Trade Agreement (NAFTA) have also taken a heavy blow as Trump justified his penalties on the grounds of national security.
Canada's Prime Minister Justin Trudeau told a national press conference on Thursday that he rejected Trump's justification as spurious: "Let me be clear – for the past 150 years, Canada has been the United States most steadfast ally."
Mexico's government issued its own response from the economic ministry: "Faced with tariffs imposed by the US, Mexico will impose equivalent measures to various products such as…pork legs and shoulders, sausages and food preparations, apples, grapes, blueberries, various cheeses, among others."
It has yet to release the duty rates to be levied on the products, but said they would yield revenues "comparable" to Washington's duties imposed on metals.
"This measure will be in force until the US government eliminates the imposed tariffs," Mexico's economic ministry added in the statement.
Mexico is in the midst of a presidential election campaign, with a poll on July 1. The likely winner – Andrés Manuel López Obrador – is a declared opponent of free trade, which could further complicate the NAFTA talks.
Meanwhile, the share prices of US food companies have taken a hit as investors anticipate retaliatory measures against US exports. The S&P 500's packaged foods and meats industry sub-index fell 2% on the news that tariffs were being imposed by the US, with shares of meat producer Tyson Foods falling 4%, Campbell Soup Co 2.5% and spice and sauces business McCormick & Co 3%.