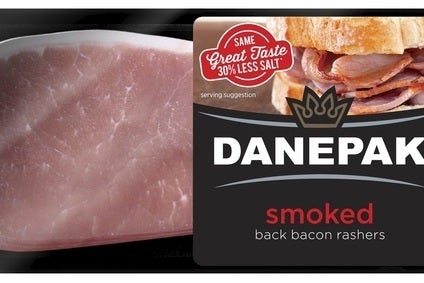 Danish Crown's UK arm, Tulip, has launched a low-salt version of its Danepak bacon in the country.
A reformulation of the curing process in the original product means the new version will contain 30% less salt than standard bacon.
The curing process features Iposol – a solution of water and sea salt, which through a physical process, increases the flavour of salt without upping the amount of the ingredient.
A spokesperson for Tulip said: "The reduction of its salt content by a staggering 30% will mean that consumers looking for a tasty treat can rely on Danepak's ability to deliver on quality and taste whilst offering a healthier alternative to standard bacon."
just-food understands the new product will eventually replace the existing line. However this is a so-called soft launch of the low-salt bacon and there is no indication when the original product will no longer appear on shelves.
The new product will be available in UK supermarkets from early February.