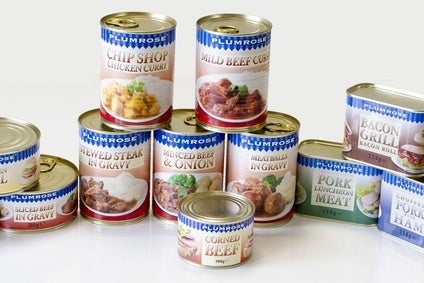 Tulip, the UK arm of Danish Crown, aims to grow its presence in discount, independent and wholesale channels through its Plumrose canned meat and meals range.
The brand, which has been around since the 1930s, has been revised and the range has been expanded to include items such as chip shop chicken curry and sliced beef in gravy alongside ham and luncheon meat products.
Grocery division commercial director Mark Phillips said the line had been created to cater specifically to customers outside the multiple retailers."We have looked at the needs of the wholesale, discount and independent sectors and have created a range to fit the requirements of the retailer and ultimately the consumer. All of the products are available in established sizes and formats, and in eye catching packaging designed to appeal to our target consumer who is looking for great value and convenient meal solutions. These ranges won't be found in the big multiple retailers."
In total the line consists of five cold and six hot varieties.