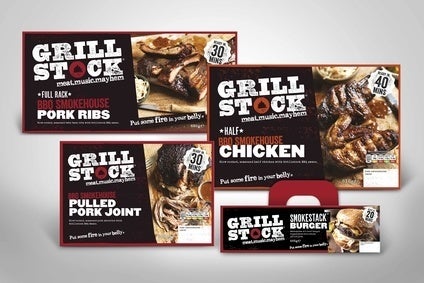 Tulip, the UK arm of Danish Crown, hopes to grow its Grillstock brand in UK retail through the launch of a number of new BBQ meat products.
The company is launching a Grillstock line of products including full rack of BBQ smokehouse pork ribs, BBQ smokehouse pulled pork joint, BBQ smokehouse chicken and smokestack burger. As the brand gains traction, the company expects to grow its product line-up.
Initially products will be available in Booths but a spokesperson said Tulip is in talks to expand into the UK's largest supermarkets. "Grillstock as a brand has big presence nationwide thanks to their music & food festivals and growing chain of BBQ restaurants. They have met with a number of major supermarkets and are hopeful of an imminent roll out with one of them at least," the spokesperson revealed.
According to the spokesperson, the company hopes to leverage its "huge" social media presence and "nationwide" festival offering to grow in the BBQ category, which is currently dominated by private label sales.
"This is the first branded premium product in this category and is designed with the rubs and spices from the Grillstock smokehouses. It will allow consumers the same unique eating experience with the convenience of a retail product."