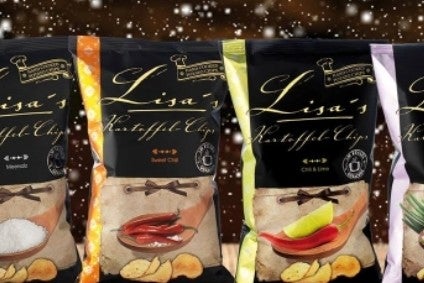 Tyrrells, the UK crisp maker, has acquired Aroma Snacks, a German supplier of organic crisps.
David Milner, Tyrrells' CEO, said the acquisition will help the company meet "growing demand for Tyrrells in continental Europe". Germany is Tyrrells' largest market on the continent.
Milner said the purchase of Aroma Snacks would also "boost our organic expertise". The deal, announced today (16 May) for an undisclosed sum, comes nine months after Tyrrells' acquisition of Australian organic snacks business Yarra Valley Snack Foods. The Yarra Valley acquisition gave Tyrrells its first manufacturing site outside the UK.
Tyrrells described Aroma Snacks as "one of Germany's largest organic crisp producers". The company's range includes the Lisa's brand.
Jochen Krumm, Aroma Snacks' managing director, said: "I am delighted to be working with Tyrrells and look forward to realising our combined growth potential. We are very excited about the opportunities that this acquisition presents both nationally and internationally."