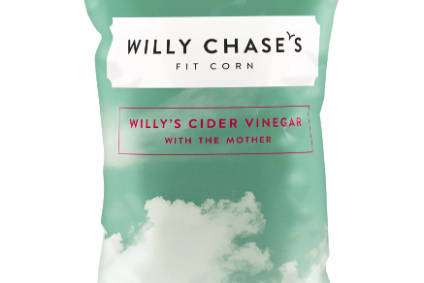 Tyrrells Crisps founder Will Chase has set up a new health-focused snack food business, Willy Chase's Fit Food, in response to trends towards "health, fitness and real food" in the UK.
The new company is launching range of air-popped popcorn – Fit Corn – that will be produced on Chase's farm. Fit Corn production levels will be "very small to start with" and the group will initially introduce products to independent retailers this month with an RRP of GBP0.99 (US$1.40), a spokesperson for the company told just-food.
However, Willy Chase's Fit Food believes the business will be able to expand in the relatively consolidated UK popcorn sector. "There are a number of qualities of Fit Corn that will single it out within the competitive market," the spokesperson insisted. "All Fit Corn Popcorn is handmade on the farm using their own corn. The popcorn is air-popped and seasoned with locally sourced and sustainable products in a kitchen on site. Notably, one of the flavours of popcorn is seasoned with 300-year-old apple cider vinegar with the mother. The 'mother' refers to strands of proteins, enzymes and friendly bacteria within apple cider vinegar. It originates in the 300-year-old orchards on the Willy Chase Farm and is passed through pips and stalks during the vinegar making process."
The line will initially consist of six flavours: goats cheese, red onion and thyme; salted honey; smoky bloody Mary; cacao and coconut; nearly naked; and cider vinegar with the mother.
Chase's prior food sector business, Tyrrells, was founded in 2002. In 2008, a majority stake in the business was sold to private-equity firm Langholm Capital. Five years later, Tyrrells was sold on to Bahrain-based private-equity firm Investcorp for GBP100m (US$142.1m).