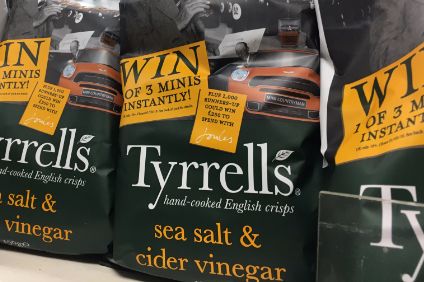 US group Amplify Snack Brands is to launch Tyrrells Stateside later this year amid problems for the UK crisp brand in its domestic market.
Amplify this week lowered its forecasts for its annual sales and underlying EBITDA in part due to a "disappointing" performance from Tyrrells – which the company acquired last year – in the UK.
Speaking to investors after Amplify published the new forecasts alongside its second-quarter results, Tom Ennis, the company's president and CEO, said Tyrrells suffered from "tougher" than expected trading conditions in the UK, particularly with retail customers moving more to own label.
To try to improve Tyrrells' domestic performance, Amplify has cut some branded lines but has also ended some own-label production to divert more output to better-performing branded SKUs.
Outside the UK, Ennis said Tyrrells has seen success in markets including France and Australia and Amplify plans to take the brand into the US in a phased manner.
Ennis said conditions in the UK market had become more difficult since Amplify had acquired Tyrrells.
"We certainly were aware of the retail environment when we acquired the brand but, as we went into the fourth quarter last year and in particular in the first quarter of this year, we saw some of the bigger retailers – in order to combat the discounters like Aldi and Lidl – starting to focus more on their private-label brands," Ennis said. "Our branded business didn't get as much promotional support or merchandising support and that was going more towards the private-label business for the big retailers like Tesco and others."
The Amplify chief said the company's efforts to adjust Tyrrells' production had started to show signs of paying off.
"We've had some SKU rationalization where we've got rid of some unproductive branded SKUs but we've also gotten rid of some, what I would call, non-strategic, private-label business that allows us to free up capacity to graft on the branded side. We feel good about the turnaround in the UK. We've actually seen nice sequential improvement month-after-month," Ennis said. "We could make about ten to 15 points more on the branded side of the business than we do on the private-label side, so part of the turnaround there is really getting much more focused on our branded piece of business in the UK. We make more money, it's a longer-term, more sustainable business for us. And so that shift has already happened."
Ennis said Amplify was confident about Tyrrells' prospects in the US despite intense competition in savoury snacks. He explained the phased launch was due to a new plant being used to make the crisps.
"Tyrrells will do a soft launch in kind of Q3 into Q4 and the only reason there's a soft launch is it's a new production facility. There's always kind of bugs to work out in a new facility. We didn't want to overburden or overtax the manufacturing facility," Ennis said. "We've got the right amount of distribution that we wanted in the second half. So there was no shortage of customers asking for the brand. And then, as we get into Q1 '18, we'll have a very robust launch of the Tyrrells brand in the US And we're still very bullish on Tyrrells' ability to work in the US as well as other parts of the world."