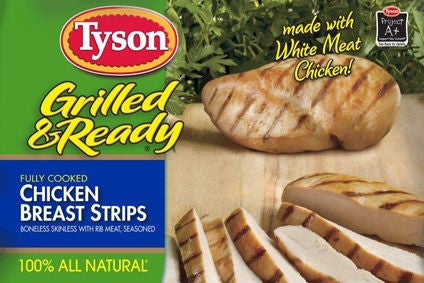 US meat giant Tyson Foods has said 51 employees at its poultry plant in Portland, Maine, have tested positive for coronavirus.
The company said it has now completed facility-wide testing at the site, where limited production resumed last week.
It said that of the 403 employees and contractors who work at the facility, 51 tested positive, including 31 individuals who did not show any symptoms and otherwise would not have been identified.
Testing at the Portland facility took place over three days from 2 May while the plant was temporarily closed for deep cleaning and sanitisation. The facility, which resumed limited production on 7 May, is located in Cumberland County, where 714 confirmed Covid-19 cases have been reported as of 11 May.
Tyson said employees at the Portland facility now have access to daily clinical symptom screenings, nurse practitioners and enhanced education and support.
These programmes are in addition to safety steps such as temperature checks for all workers before every shift, the provision of protective face masks and social distancing measures, including physical barriers between work stations.
The Portland facility is among a group of more than 30 production plants where Tyson is rolling out testing capabilities and care options on-site in partnership with Matrix Medical, a medical clinical services company, and other partners.
Tom Brower, senior vice president of health and safety for Tyson Foods, said: "As we learn more about this virus, we continue to do everything we can to protect our team members and ensure they feel safe and secure when they come to work."
Tyson has been one of the US meat companies hardest hit by Covid-19 with a number of temporary plant closures announced and many workers testing positive for the virus across facilities such as its Waterloo, Iowa, pork plant which has now re-opened.