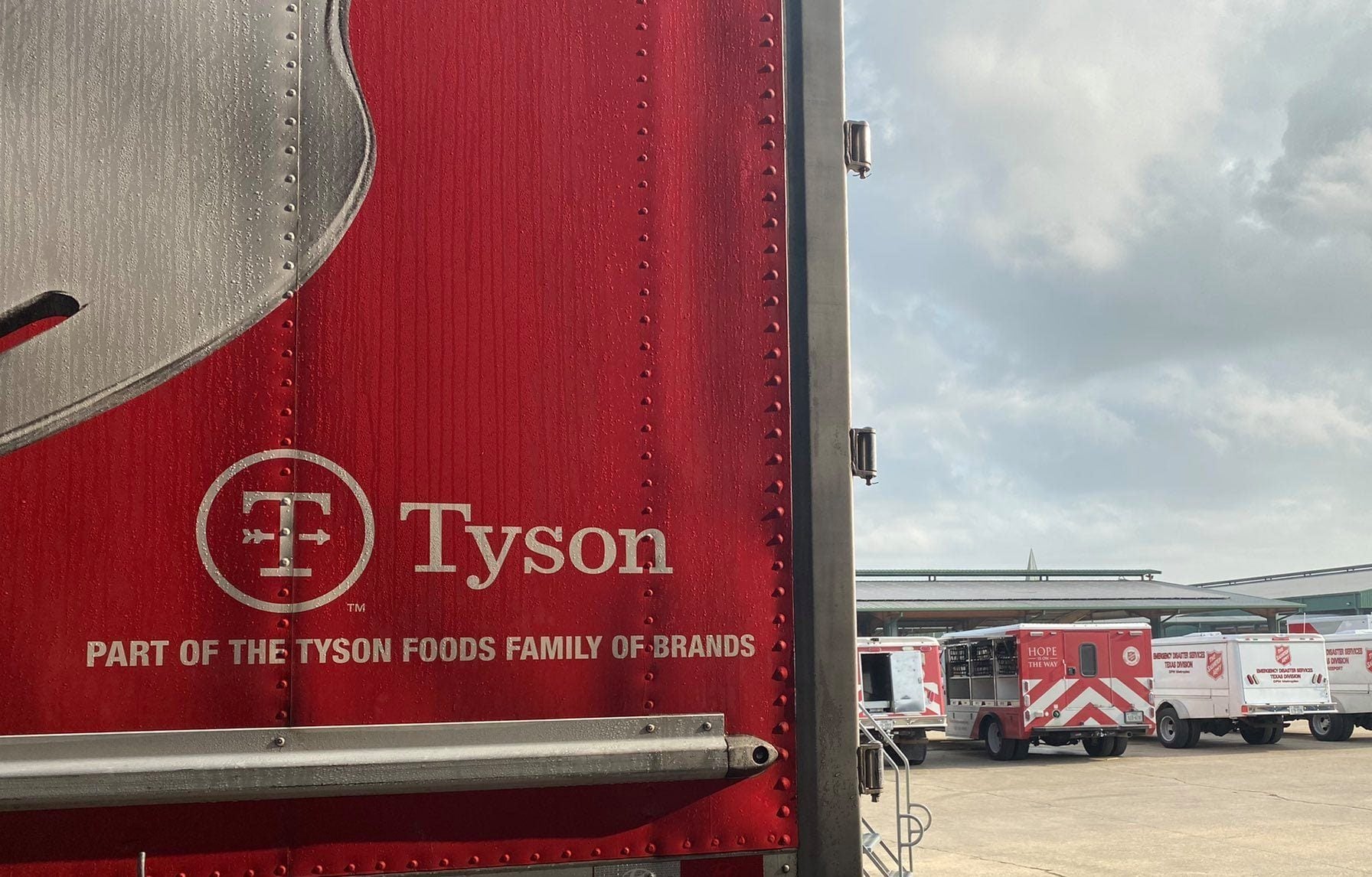 Tyson Foods' brands are central to the US meat giant's growth prospects, the company's management has argued, after a cut to the company's sales forecast hit its share price.
The Jimmy Dean and Hillshire Farm brands owner lowered its full-year sales forecast yesterday (8 May) as it posted second-quarter financial results that included a loss of $91m.
Tyson Foods is now expecting full-year sales of $53bn to $54bn against a prior estimate of $55bn to $57bn.
As a result, the company's shares ended trading yesterday (8 May) at $50.73, down more than 16% on the day.
In a call with analysts to discuss the results, CEO Donnie King pointed to a number of headwinds facing the protein heavyweight, including cost inflation, lower commodity prices for fresh chicken and reduced demand for beef from cash-strapped shoppers which makes it difficult to pass on the expenses in its supply chain.
As a result, second-quarter sales stood at $13.13bn, compared to $13.11bn a year earlier. The company reported an operating loss of $49m compared to a profit of $1.15bn a year earlier. Adjusted operating income for the first half of the fiscal year slumped 80% to $518m.
King told analysts: "This quarter was definitely a tough one … results were weaker than expected and top-line performance was mixed, particularly when compared to our strong performance last year."
He added: "I can't remember a time when our business faced the highly unusual situation that we're currently seeing, where all three of our core protein categories, beef, pork and chicken are experiencing market challenges at the same time. This unusual confluence of issues continued in Q2 and directly impacted our results."
However, King remains bullish about Tyson Foods' prospects, especially in relation to its branded products.
"Our branded foods business is the key growth pillar for the future and in Q2, the business performed well. These results were driven by the strength of our share position, especially for our core brands, including Jimmy Dean, Tyson and Hillshire Farm, which helped deliver strong margins compared to the same 13-week period last year," he said.
King, meanwhile, also pointed to Tyson's ongoing strategy to cut costs, which he described as "important initiatives to simplify our structure and right-size our team".
He added: "These are a logical next step in our ongoing efforts to drive operational and functional excellence as we strive to be best-in-class in our industry."
King told analysts: "We also made the difficult choice earlier this quarter to close two of our less productive chicken plants. These strategic actions are expected to generate significant efficiencies going forward."
Last month, in another cost-savig measure, Tyson revealed it was to make cuts at the senior executive level.
On a bullish note, King told analysts: "Despite challenging market conditions, we continue to execute our strategy and have significant opportunities in front of us……We continue to invest in automation and digital capabilities with opportunities to improve our yield."