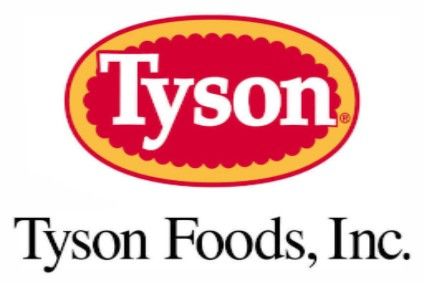 Tyson Foods, the US-based meat giant, is changing the way it is looking to grow in markets outside the US, by moving its focus "from commodities to consumer", Sally Grimes, the head of the company's international business, has said.
The company has poultry operations in China and India but the units account for a small part of the group's overall sales. Tyson has scaled back its international business in recent years. In 2014, Tyson sold off its operations in Brazil and Mexico to JBS, the Brazil-based meat processor.
A sign of the current relative scale of Tyson's non-US operations comes when the company reports its financial results, it groups the Chinese and Indian operations into a unit called "other". The move was made when Tyson filed its numbers for its last full financial year in November, when the group also recorded an impairment charge on its business in China of US$169m.
For the year to 3 October, Tyson's "other" division – which also included third-party merger and integration costs – recorded sales of US$871m, versus $1.38bn a year earlier. It booked an operating loss of $99m, compared to $195m in 2013/2014. Tyson's international business accounts for around 17% of its turnover.
At the time, president and CEO Donnie Smith emphasised the "potential" Tyson saw in both markets. Last week, Tyson reported its numbers for the first quarter of its new financial year. The results included $99m in sales from the "other" division, down from $305m in the first quarter of the previous financial year, a period that included sales from Brazil and Mexico. The division ran up an adjusted operating loss of $18m, versus $14m in the corresponding period a year earlier. Tyson forecast the unit would post an annual operating loss of around $70m.
Speaking at the Consumer Analyst Group of New York conference yesterday (16 February), Grimes, also Tyson's chief growth officer as well as the president of its international arm, said the company had a "commitment to growth markets".
Grimes said: "The macros are clear. They are shaping the markets that are most relevant to Tyson Foods. Ninety six per cent of the world's hearts, minds and stomachs are outside of the United States. And following suit, 90% of fresh poultry, and pork, and beef, and processed meat consumption is outside of the US."
However, the way Tyson is approaching doing business outside the US is changing, Grimes, who joined the company when it acquired Hillshire Brands in 2014, insisted. "We have shifted our current commodity focus outside of the US in order to realise our potential, and it starts with the consumer. We're moving from simply supplying customers to meeting consumer needs. And we're moving from a past focus of how do we take what we do here and make it work there, to there as our starting point. And finally, our future is not about offering commodities, it's about offering experiences. And I'm talking about proprietary Tyson experiences which are linked to value propositions that become indispensible to the people and the markets we serve.
"In the coming years, we will focus on transforming our business in China and scaling our business in India, which is home to the fastest growth in disposable income per capita of any nation over the next 15 years. We have begun to shift our focus and our capabilities in China and India from commodities to consumer."
Grimes told the audience at CAGNY Tyson's international efforts are "a work in progress" and the company would release more details "in the coming months".
Farha Aslam, an analyst at US investment bank Stephens, asked if capital expenditure or mergers and acquisitions would "drive" Tyson's attempts to grow its international business.
Grimes replied: " We have a very clear strategy in place that is all about moving from commodities to consumer. If that scale involves an acquisition or organic growth, we're looking at all opportunities right now. So not ready to tell you exactly, but very clear strategy, and actually some very strong early results based on the innovation and the brand building that we're doing right now in China and India."