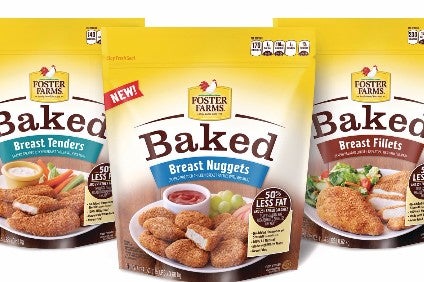 Tyson Foods, the largest meat processor in the US, has held discussions on the possible takeover of local peer Foster Farms.
CNBC reported today (5 February) the chicken suppliers had disagreed over the price Tyson should pay for Foster Farms, adding it was possible the talks could break down.
Approached by just-food, a Tyson spokesperson said the company did not comment on "rumours".
California-based Foster Farms is a family-owned business set up in 1939 by husband and wife Max and Verda Foster. The company supplies chicken and turkey products to retail and foodservice customers.
Last summer, Tyson acquired Keystone Foods from Brazil-based meat group Marfrig Global Foods, announcing the deal would be a "platform for growth," particularly in the Asia-Pacific region, and will provide a "platform to build a true international business".
In November, when Tyson last reported a set of quarterly financial results, the company's management was asked about M&A and its plans for growth outside the US.
CEO Noel White said: "We're forecasting about 90% of the growth in global protein demand will take place outside the United States. We do plan to participate in that demand growth as we see economies grow and develop. I think you saw the first step, which is Keystone, which gives us a solid base to build from.
"My priority is no different than what Tom [previous CEO Tom Hayes] or my predecessors have been is to grow our business in prepared foods, value-added products and in the international market, simultaneously working to provide stability with more of the commodity portions of our business being segments of our chicken, beef and pork businesses."
CFO Stewart Glendenning added: "One, acquisition or expansion of any business comes with risk. And I don't think if you looked at any of the large CPG companies in the world that are global that you would add advocate that they shrink away from this global market.
"So we think we're going to pursue that growth, and we're going to do it in a sensible, a financial way. And that's my second point. This is a company that's using a very return-focused lens as we look at opportunities to expand our business, and it will be no different internationally than domestically."