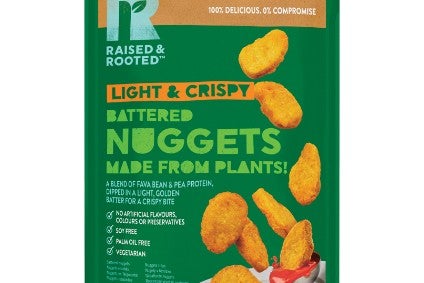 Tyson Foods, the US meat behemoth, is launching its plant-based brand Raised & Rooted into Europe's foodservice market.
The company is rolling out five products, including plant-based alternatives to nuggets, in Europe, without specifying the countries, although the packaging for the food features eight languages.
Protein from fava beans is the central ingredient for the products sold under the Raised & Rooted brand in Europe. Raised & Rooted was first launched in the US last year. The products sold in Tyson's domestic market use pea protein.
Brett Van de Bovenkamp, president of Tyson's European business, said. "Our unique capabilities in R&D and innovation, combined with our international footprint and infrastructure makes us uniquely positioned to be a European market leader in alternative protein.
"Our focus has been on taste and texture, and we're confident our alternative protein products meet consumer expectations. We're experts in the protein industry and have innovation centres to help us produce great tasting plant-based products on the market."
The Raised & Rooted products are manufactured at Tyson's facility in Oosterwolde in the Netherlands. The company was already manufacturing plant-based protein products in the country for customers in Europe. The Raised & Rooted move is Tyson's first plant-based push in the region.
Tyson acquired the Oosterwolde plant as part of the US group's acquisition of the European assets of Brazilian peer BRF in 2019.
Earlier this year, Tyson also launched its namesake meat brand into Europe's foodservice market.