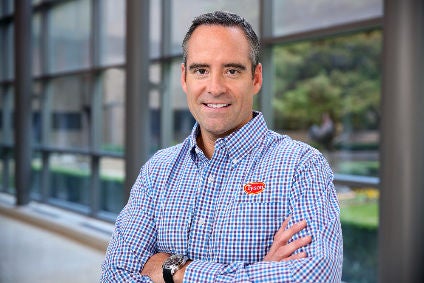 Tyson Foods today (6 February) raised its forecast for annual earnings after an opening three months to the US group's financial year CEO Tom Hayes described as "the best start in company history".
Shares in Tyson rose in pre-market trading after the Jimmy Dean and Hillshire Farm owner upped its forecast for its full-year earnings per share. Alongside Tyson's first-quarter results, the company also provided forecasts for its annual sales and for the margins for its business units.
Tyson has forecast its annual earnings per share will reach $4.90-5.05, which would equate to a 12% increase on a year earlier. Hayes pointed to "strong market conditions" in Tyson's first quarter, which ran to 31 December. He also cited the "outstanding performance" from Tyson's beef and pork arms for the new earnings forecast.
Hayes said: "The year is off to the best start in company history with record earnings, record operating income and record cash flows. Tyson Foods again led retail food manufacturers in both sales volume and sales dollars for the 13-week period corresponding with our fiscal first quarter. Not only did we lead in sales volume, according to IRI, we were the only company to show volume growth among the top ten branded food companies."
He added: "We're on a path toward what we expect to be our fifth straight year of record results. Our path won't be linear, but our team is focused on delivering long-term growth and creating shareholder value."
Tyson's first-quarter net income stood at $593m, up from $461m a year earlier. Operating income was $982m, compared to $776m in the first quarter of the company's previous financial year.
The growth in profits came despite meagre expansion from Tyson's top line. Sales inched up 0.3% to $9.18bn as falling prices from Tyson's beef, pork, prepared foods and "other" – which includes the company's units in China and India – divisions weighed on its revenue.
For the year as a whole, Tyson expects its sales to be flat year-on-year, although it sees volumes from each division rising. It forecast lower beef prices will dampen its sales growth.
Tyson estimates the operating margin from its beef business will be "around 5%", up from its earlier forecast of growth of 1.5-3%, the "normalised range" for the unit.
The company maintained its forecast for the annual operating margin from its chicken arm to be at the "upper end of its normalised range of 9-11%".
Tyson upped the forecast for full-year operating margins from pork from "at least" 10% to "around" 12%.
However, the group downgraded its expectations for operating margin from its prepared foods arm. In November, Tyson said the annual operating margin from its prepared food arm would be "similar" to the previous 12 months. Today, it forecast margin would be "a little below", pointing investment in the "innovation and growth of our brands", as well as in "some of our facilities to enable operational improvements and cost efficiencies".
Shares in Tyson rose 2.16% in pre-market trade to $66.80.