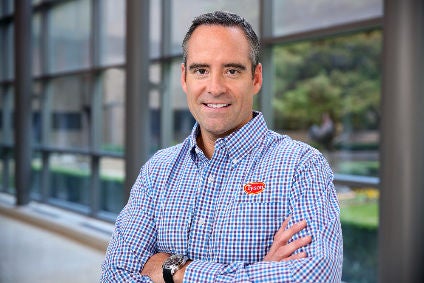 US meat group Tyson Foods today (21 November) announced president Tom Hayes would become its new CEO at the end of the year.
Hayes will succeed Donnie Smith, who became Tyson's CEO in 2009, on 31 December.
John Tyson, the company's chairman, said: "The board's decision to name Tom CEO at this time was based on both his track record and how his skills align with the company's strategic direction and continuing evolution. The board has the utmost confidence in Tom's ability to build on the platform Donnie has created, to expand further into developing markets, new product categories and proprietary food experiences, and to continue investing in our core nine categories."
Hayes joined Tyson as president of its foodservice business two years ago when the company acquired US business Hillshire Brands for US$8.55bn. He then added the role of chief commercial officer. In June this year, Hayes was appointed president of the whole business, taking on the role from Smith, who had been president and CEO.
Hayes said today: "Tyson Foods is well positioned to realise numerous growth opportunities – our company has a solid strategy that leverages compelling market dynamics and an experienced and highly capable management team and many thousands of hard-working and dedicated associates."
Smith said he was "confident that Tom is the right CEO to continue the transition we have started and lead Tyson in the next phase of its strategic development and growth".
He added: "I take great pride in having led Tyson Foods for the past seven years. In addition to helping the company deliver growth and strong shareholder returns, I am also proud of the efforts we have undertaken to make Tyson Foods a company with a conscience, focused on providing consumers wholesome, affordable food and making a positive difference in people's lives. When Tyson acquired Hillshire Brands in 2014, with the support of the board and the family, we embarked on a new strategy to integrate the strengths and products of each company into one company, and the resulting hybrid model has been a success in no small part thanks to Tom's strategic, operational and commercial accomplishments."
Alongside news of a new CEO, Tyson also today (21 November) touted a year of "record results". However, shares in the US meat giant fell in pre-market trading after its fourth-quarter numbers missed analyst expectations.