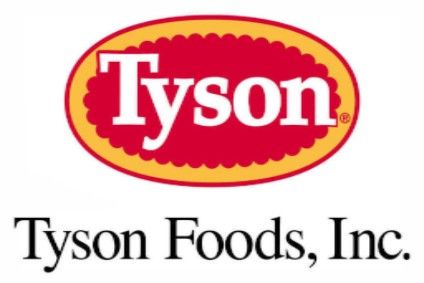 Tyson Foods has said it is on track to deliver its "best quarter in history" and the US meat giant hinted it could lift its earnings guidance for the remainder of its financial year.
"The first quarter is off to a phenomenal start. As soon as the quarter is complete, we will begin our review of annual guidance," incoming CEO Tom Hayes said at the Bernstein Consumer Summit yesterday (7 December).
Tyson announced two weeks ago Hayes, the company's president, would become its CEO at the end of the year. The appointment was announced alongside Tyson's results for the year and fourth quarter to 1 October. Tyson touted a year of "record results", although shares in the company fell in pre-market trading after its fourth-quarter numbers missed analyst expectations.
At the Bernstein summit, Tyson stressed it continues to see growth in both its retail and foodservice businesses.
"We continue to see success in leveraging consumer insights in our prepared foods' business, and the most recent data indicate that our core nine categories and foodservice top tier offerings continue to outperform the industry," Hayes continued. "This growth, coupled with beef and pork segments performing well in excess of their normalised ranges, has us poised to achieve our best quarter in history."
Tyson's so-called "core nine" brands are the group's retail value-added poultry, its Wright branded bacon, two products sold under the Hillshire Farm label – smoked sausage and lunchmeat and two marketed under the Jimmy Dean brand – frozen breakfast and breakfast sausage. The group also includes Aidells smoked sausage, State Fair corn dogs and two lines sold under the Ball Park brand – corn dogs and hot dogs.
Hayes, meanwhile, was also keen to play down investor concerns over a lawsuit alleging Tyson colluded with various other US chicken processors to manipulate prices. A suit, filed in September by New York-based distributor Maplevale Farms, claimed 14 businesses, which also include Perdue Farms, Foster Farms and Mountaire Farms, "conspired and combined to fix, raise, maintain, and stabilize the price of broilers" from as early as January 2008.
Hayes said the claims "are simply not true", adding: "We will continue to operate our business with integrity and drive value to our customers and consumers."
The company is due to deliver its first-quarter results in February.
For just-food's recent analysis of the challenges facing Hayes as he takes over as chief executive of Tyson Foods, click here.