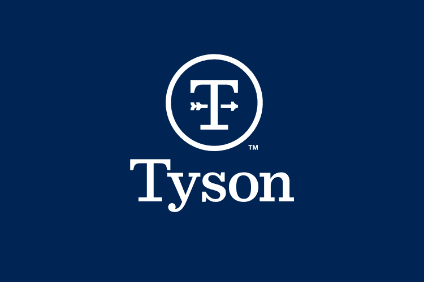 Tyson Foods today (7 August) posted "record" nine-month operating income and earnings per share, although the US meat giant saw its bottom line decline in its third quarter.
The owner of its namesake brand and those of Jimmy Dean, Sara Lee and Hillshire Farm, posted a 1.4% increase in sales to US$28.1bn in the nine months through 1 July from a year earlier, the company said today (7 August).
Earnings per share came in $3.72, up 6%, based on generally accepted accounting principles, and $3.88 on an adjusted basis. Net income was almost flat at $1.38bn.
Based in Springdale, Arkansas, the company is targeting adjusted EPS for the full-year of $4.95-$5.05, which would represent a 13% increase over 2016.
Nine-month operating income climbed 0.1% to an all-time high of $2.3bn and was higher at $2.36bn adjusted.
Nine-month sales volumes in beef, pork, chicken and prepared foods all increased.
In the third quarter of the year, Tyson generated sales of $9.85bn, up from $9.4bn a year earlier.
However, the company's operating income fell 9.1% to $697m. Stripping out costs linked to Tyson's acquisition of US convenience food group AdvancePierre Foods, the company said its operating income was up 8.2% at $756m. Tyson's third-quarter net income was $447m, down 7.6% on a year earlier.
"Our team delivered solid results in our third quarter with three of four segments on a GAAP basis and all four segments on an adjusted basis achieving operating margins in or above their normalised ranges," said president and CEO Tom Hayes. "We're nearing the end of a record year of earnings per share and operating income, and we're looking ahead to fiscal 2018 with great enthusiasm."
The company acquired local convenience food group AdvancePierre Foods Holdings in June and expects to reap "net synergies" in excess of $200m by fiscal 2010.
"The team worked quickly to complete the acquisition of AdvancePierre in June, and the integration is well underway," Hayes said. It will further "our leadership position in prepared foods as we capitalise on the fast-growing convenience store channel and the fresh retail perimeter across all day parts", he said.