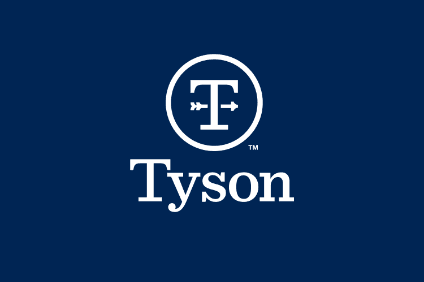 Shares in Tyson Foods fell in pre-market trading today (8 May) after the US meat giant booked lower second-quarter sales and earnings.
Tyson, however, saw its first-half earnings rise and pointed to what it said was "record" adjusted earnings per share for the first six months of its financial year.
In the three months to 1 April, Tyson's net sales were US$9.08bn, down from $9.17bn a year ago, amid lower revenues from beef and prepared foods. Analysts had forecast sales of $9.07bn.
The company's operating income fell 19% to $571m due in part to lower earnings from chicken and prepared foods. Tyson's chicken business was affected by fires at two plants during the quarter. The company, meanwhile, booked an impairment charge of $52m on a prepared foods facility in San Diego. Tyson's adjusted operating income stood at $623m, versus $704m a year earlier.
Tyson's net income declined 21.4% during the quarter to $340m, or $0.92 a share. On an adjusted basis, Tyson's earnings per share were $1.01. Analysts had forecast adjusted earnings of $1.02 a share.
Looking at the first six months of the year, Tyson generated sales of $18.27bn, down from $18.32bn the previous year. The company's operating income was up 4.9% at $1.55bn. First-income was 4.5% higher at $935m.
"We generated record adjusted EPS in the first half of the fiscal year," president and CEO Tom Hayes said. "Despite seasonal challenges typical of our second quarter and one-time events, adjusted earnings per share was up 17% over the first half of fiscal 2016.
"Our prepared foods segment results were negatively affected by the on-going challenges in our pizza toppings and ingredients meats businesses discussed last quarter. We expect our results to improve as we continue to address operational efficiency and capacity through fiscal year 2018. Unfortunately, we experienced fires in two chicken plants in our second quarter. Had it not been for the fires, our Chicken segment return on sales would have been within its normalised range."
Nevertheless, Hayes added: "We're half way to another strong year of financial performance at Tyson."