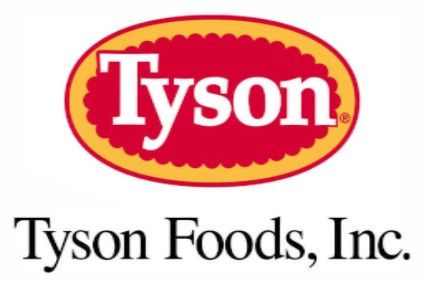 Tyson Foods has raised its full-year profit forecast after reporting a jump in first-half earnings today (9 May).
The US meat group said full-year earnings are now expected to total US$4.20 to $4.30 per share, up from prior guidance of from $3.85 to $3.95 a share. Sales are expected to total $37bn, down from $41.4bn last year due to declines in beef, pork and chicken prices.
For the first half, Tyson revealed operating income of $1.48bn, up from $1.05bn in the comparable period of last year. Net earnings totalled $895m versus $621m.
The company said profitability was helped by "record" operating margins at its chicken and pork segments, as well as growth at its higher value prepared foods unit.
Sales were, however, down in the period. Revenue in the six months dropped to $18.3bn from $20.7bn. The company revealed selling prices were down across its operating segments with beef pricing dropping 15.2%, pork down 11.8%, chicken declining 4.8% and prepared meats pricing falling 3.8%. Volumes were flat-to-down across its reporting segments, with prepared foods volumes declining 4% year-on-year.
"Our business continues to perform very well, delivering record second quarter operating income and return on sales, in what is typically the most challenging quarter of our fiscal year," Donnie Smith, president and chief executive officer of Tyson Foods, said.
Smith stressed the company is growing the topline in "key" areas of retail. "The pricing and marketing investments we've made are paying off in increased volumes in strategic products including Hillshire Farm smoked sausage and lunchmeat, Jimmy Dean breakfast sausage and Ball Park hot dogs. With a focus on the longer term, we have a three-year pipeline of innovation across all segments with exciting new product launches to keep our offerings in the retail, food service and international channels relevant to consumers."
He concluded: "We're in a great position, and we're generating momentum that will take us into 2017 and beyond. We've produced record results in the first half of the fiscal year, and we expect continued strong performance in the second half."