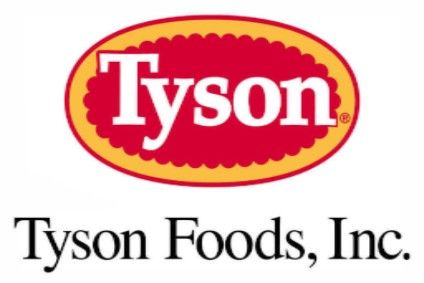 Tyson Foods, the US meats group, has touted the potential for what it calls its "core nine" group of brands to drive growth in its prepared foods division.
The meat processor significantly expanded its position in more value-added segments in when it acquired Jimmy Dean and Hillshire Farm owner Hillshire Brands for US$8.55bn in August 2014.
For the year to 3 October 2015, Tyson's prepared foods division generated adjusted sales of US$7.68bn, out of the group's total sales of $40.62bn. The unit generated adjusted operating income of $636m from a group figure of $2.25bn. Tyson said the average sales price of its prepared foods increased on the back of the newly-acquired Hillshire Brands.
The so-called "core nine" brands are the group's retail value-added poultry, its Wright branded bacon, two products sold under the Hillshire Farm label -smoked sausage and lunchmeat and two marketed under the Jimmy Dean brand – frozen breakfast and breakfast sausage. The group also includes Aidells smoked sausage, State Fair corn dogs and two lines sold under the Ball Park brand – corn dogs and hot dogs.
Speaking to the Consumer Analyst Group of New York conference this week, Tyson's management outlined what it saw as the strengths of the products and why they are important to the business's growth prospects.
"Our core nine represent within our retail packaged brands business, about two-thirds of our sales but the majority of our profit," Andy Callahan, president of Tyson's retail packaged brands business, said. "What's important about these brands when you look at the long-term margin and growth potential, when you invest in them today, you get a good ROI, but over the long-term, you create better shareholder value."
Callahan, who joined Tyson from Hillshire, where he was the president of Hillshire's retail business, said the brands hold higher prices than their peers but consumers are willing to pay a premium. "If you look at our core nine, our portfolio on average commands an 11% price premium versus the next leading brand. And that premium has grown since 2012, 200 basis points. Consumers are overwhelmingly more willing to purchase our brands at full value. Now, we do promote, and obviously we keep them fresh to grow, but it's an underlying health of our businesses day-to-day that that represents."
He added the products were growing faster than the categories in which they compete. "In the last four weeks ending January 24, our volume growth in our Core 9 was up 4%. So I feel good that a lot of that is behind us."
Sally Grimes, another ex-Hillshire exec now at Tyson, indicated the company has to launch more products. "Over the next year, we will have 12 major launches supporting our core nine categories," Grimes, Tyson's chief growth officer, said.
Grimes did not share details on the 12 products but did outline moves Tyson will make to take some of the brands into "adjacent" segments. Tyson, for example, is launching "stuffed" hash browns and baked egg Frittatas under the Jimmy Dean brand later this year.
Part of Grimes' remit is to identify new areas of growth for the business and one she has identified is e-commerce. " Non-store retail or e-commerce is projected to grow five times faster globally than other channels. So we are innovating with the e-commerce shopper and retailer in mind and we are making significant progress with key players in the food e-commerce space." Grimes said, for example, Tyson would sell fresh protein products through Amazon Fresh this year.
Tyson is also testing a new type of product in the US e-commerce channel later this year. The company has developed Tyson Tastemakers, a range of meal kits and "premium" proteins it said will help consumers prepare their own dishes. "It's a curated line of dinner experiences that can be made fresh at home," Grimes said. "The goal is to empower the at-home chef to try something new, to be fearless, and most importantly to have some fun. We'll do this by adding value to fresh proteins in the areas consumers told us that they wanted and needed the most help. So we will teach them about new cuts of meat and share where the meat came from. We'll also pre-cut and we will trim the meat, we'll dry age it or we'll smoke it, we'll also pre -marinate it and do a lot of the prep work so all they have do is cook it."
Tyson Tastemakers, which feature products including a layered harissa chicken and chorizo, as well as an Irish stout beef stew, will be piloted in the e-commerce channel later this year.