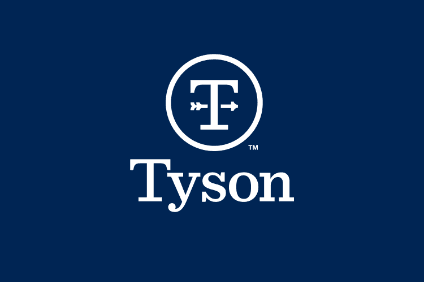 US meat heavyweight Tyson Foods has said it could benefit from China's African swine fever woes but also warned there is a risk the disease could reach America.
In a post-second-quarter results call with analysts, the Arkansas-based company said it could reap gains from a global shortfall in pork as the hog disease spreads rapidly across Asia.
But when asked about the disease entering the US, chief executive officer Noel White said: "I think there's a real risk that, that could take place."
The disease, which is fatal to pigs, has been detected in China, Vietnam, Cambodia, South Africa and parts of Europe, with White suggesting up to 5% of the world's hog supply has disappeared.
He cited speculation that between 20% and 30% of the Chinese herd could have been lost.
China is expected to import more protein to make up for its hog deaths, which White estimated at 150m to 200m pigs. However, Tyson and its local peers benefiting from this could be dependent on the US and China ending their current trade spat.
But the losses could also help Tyson by pushing up pork prices and prompting consumers to buy more chicken and beef as alternatives, White said.
"African swine fever has the potential to impact the global protein industry on a level that we have never experienced," he said.
"The rate in which it has spread over the course of the last 12 months makes it very plausible that it could come to the United States," he added.
Tyson said African swine fever could also hurt the company in the short term by raising input costs for pork used in prepared food products.
White said Tyson is working to keep the disease out of the US but also making preparations in case it does.
"First and foremost, we want to make sure that this disease doesn't reach the United States. So there has been activity with the industry and the US government to ensure that we're doing everything possible to keep the disease out of the United States and then react to that if, in fact, it does hit the United States. So it is an opportunity, I would tell you, for not just our pork business but all three species."
Meanwhile, global analysis firm Rabobank has warned that an unprecedented contraction in the supply of pork from China will have a spill-over impact on the dairy sector.
Rabobank senior dairy analyst Sandy Chen said: "The current African swine fever epidemic is expected to reduce China's pork production by up to 35%, resulting in increased demand for other animal proteins. Rising demand for beef could constrain China's milk production if dairy cow-culling accelerates to fill some of the gap in animal protein."