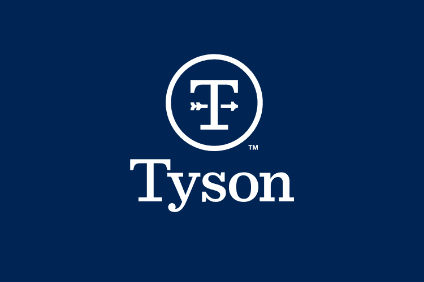 US meat giant Tyson Foods has cut its full-year earnings guidance citing the "uncertainty" behind the country's trade policies and volatility in commodity markets among the factors.
The New York-listed firm now expects its adjusted earnings per share for 2018 to come in at US$5.70-$6.00, compared to an earlier prediction of $6.55-6.70, the Arkansas-based firm said in a statement today (30 July).
Tyson also listed "sluggish" domestic chicken demand due to pricing competition in proteins, suppressed prices of pork products, and a less-than-expected benefit from US tax reforms amounting to $0.77 per share versus $0.85 previously.
President and chief executive Tom Hayes sought to reassure investors over the downgrade, pointing out that the company's diverse product portfolio should give "some level of insulation from challenging market conditions".
Tyson's cut in its earnings forecast would be one of the first among major US companies to cite trade policies as having a bearing on its operating results following President Donald Trump's recently announced tariffs on more than $200bn of Chinese imports, actions that have promoted a reciprocal reaction from its Asian counterpart.
Hayes added: "The combination of changing global trade policies here and abroad, and the uncertainty of any resolution, have created a challenging market environment of increased volatility, lower prices and oversupply of protein. We will continue to watch these conditions carefully.
"Through pricing and aggressive cost management, we're working to stabilise the impact of freight and feed ingredient costs; however, we still face pressure on chicken sales volume and pricing due to the abundance of relatively low-priced beef and pork on the market. We are working to mitigate these pressures, but our fourth quarter is off to a slower-than-expected start, driven primarily by market-related factors.
"We expect the supply-demand imbalance to equilibrate, and we remain confident in our ability to grow our company and create long-term shareholder value. Our management team has a strong grasp of both the short and long-term challenges and is actively driving the business to overcome them."