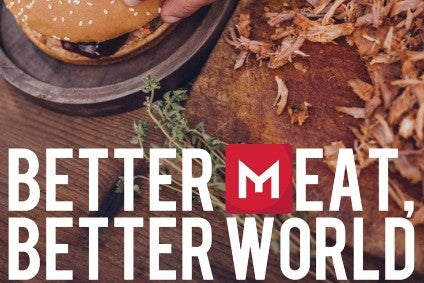 Tyson Foods' venture capital fund is investing in US food tech start-up Memphis Meats, which produces cultured meat products directly from animal cells.
While the US-based meat giant did not disclose the financial terms of the deal conducted through Tyson Ventures, a statement today (29 January) said the interest represents a minority stake in the San Francisco Bay Area business.
Memphis Meats, which will use the new funds to accelerate product development, has already attracted investment from "industry leaders, top venture investors and mission-driven groups," such as DFJ, Atomico, Cargill, Bill Gates and Richard Branson, according to the statement.
Tyson Foods said its latest foray into acquisitions is an example of the company's "commitment to explore innovative, new ways of meeting growing global demand for protein". It also comes on the back of an increased investment in Beyond Meat.
In December, Tyson took an additional, undisclosed stake in the vegan business specialising in plant-based meat substitute products in a transaction that was also conducted through Tyson Ventures. Before that, Tyson already had a 5% holding in Los Angeles-based Beyond Meat.
Commenting on the latest deal, Tyson's Justin Whitmore, executive vice president for corporate strategy and chief sustainability officer, said: "We're excited about this opportunity to broaden our exposure to innovative, new ways of producing meat, especially since global protein demand has been increasing at a steady rate. We continue to invest significantly in our traditional meat business, but also believe in exploring additional opportunities for growth that give consumers more choices."
Memphis Meats' owner Uma Valeti explained his vision for the company.
"Our vision is for the world to eat what it loves, in a way that addresses today's challenges for the environment, animal welfare and public health," the chief executive said. "We are excited that Tyson Foods will be joining us in our mission to bring meat to the table in a sustainable, affordable and delicious way."
Tyson's president and chief executive Tom Hayes explained the company's strategy of investing in cultured meats and plant-based proteins as a means to address the growing global demand for protein in food stuffs, demands that will be exacerbated by rising populations.
"We believe it will take a combination of innovative and traditional approaches," Hayes said.
"That's why Tyson Foods is investing in alternative proteins through Beyond Meat and Memphis Meats, giving our growing population more ways to feel good about the protein they're eating.
"We're also stepping up our game on animal proteins by reinvesting millions of dollars in our core businesses and making bold moves that matter to consumers, like raising chicken without antibiotics. Consumers are eating more animal protein than ever before, and we're committed to getting that protein to them."