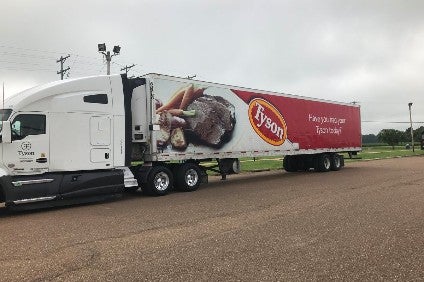 US meat giant Tyson Foods has announced plans to prohibit the use of the growth drug ractopamine in its pork supply.
Its beef and pork subsidiary, Tyson Fresh Meats, will discontinue the use of the product in its hog supply from February 2020.
While the drug's use is allowed in the US it is prohibited in China, where Tyson is trying to build market share.
Ractopamine is a feed ingredient that helps increase the amount of lean meat in hogs.
Tyson Fresh Meats has been offering a limited amount of ractopamine-free pork to export customers by working with farmers who raise hogs without it, and by segregating the animals and products at processing plants.
However, it said these programmes no longer adequately meet growing global demand, especially from China, which is seeking to replace a shortfall in domestic pork production created by the outbreak of African swine fever.
Steve Stouffer, president of Tyson Fresh Meats, said: "We believe the move to prohibit ractopamine use will allow Tyson Fresh Meats and the farmers who supply us to compete more effectively for export opportunities in even more countries."
Farmer suppliers were notified of the change on Wednesday (16 October) and have until 4 February to meet the new requirement. Tyson plans to work with them over the next few months to begin the process of testing hogs to ensure they are ractopamine-free.
Tyson Fresh Meats is the largest American-owned pork processor and generates nearly US$1bn in pork export sales annually.