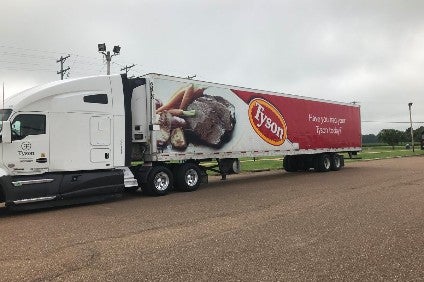 US chicken giant Tyson Foods plans to build a US$320m poultry complex in eastern Kansas, with production targeted to begin in mid-2019.
The processing, hatchery and feed-mill plant near the city of Tonganoxie in Leavenworth County will employ approximately 1,600 people, the owner of its namesake brand and those of Jimmy Dean and Sara Lee, said yesterday (5 August). The facility will produce pre-packaged trays of fresh chicken for retail grocery stores nationwide and will contract with local farmers and ranchers to raise birds.
The move comes on top of an announcement in August to spend US$84m to expand a poultry plant in Union City, Tennessee. Tyson Foods booked sales of US$28.1bn in the nine months through to 1 July and operating income of US$2.3bn.
Kansas Governor Sam Brownback said of the plan: "Growing Kansas means we must grow the food and agriculture sector which accounts for nearly 45 percent of the state's economy. The far-reaching impact of this development will be felt by farmers, ranchers, agribusinesses and communities throughout eastern Kansas."
According to the statement, the poultry plant will be capable of processing 1.25m birds per week, with payments to farmers and the purchase of grain and utilities expected to generate US$150m annually for the state of Kansas. Tyson anticipates purchasing about 300 acres of property south of Tonganoxie and will work with contractors to build the plant, hatchery, feed mill and related infrastructure. It expects the construction project to involve hundreds of workers.
"More people want fresh food and as one of the world's leading protein companies, we're well-positioned to provide it," said Tom Hayes, Tyson's president and CEO. "We believe this new operation, which will incorporate the latest production technology, will enable us to meet the sustained growth in consumer demand for fresh chicken."
In July, the company also said it would invest nearly US$60m on the expansion of its Pennsylvania distribution centre in Schuylkill County.