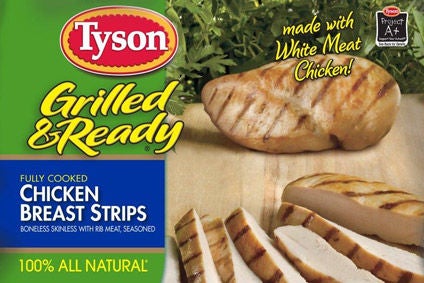 Tyson Foods today (21 November) touted a year of "record results", although shares in the US meat giant fell in pre-market trading after its fourth-quarter numbers missed analyst expectations.
Alongside the publication of the results, Tyson announced president Tom Hayes would become its CEO on 31 December, succeeding Donnie Smith.
The Jimmy Dean meats maker booked net income of US$1.77bn for the 12 months to 1 October, versus $1.22bn a year earlier. Operating income stood at $2.83bn, against $2.17bn the previous year.
However, Tyson's annual sales were down, hitting $36.88bn, compared to $41.37bn 12 months earlier. Volumes from each of Tyson's divisions of chicken, beef, pork and prepared foods were lower year-on-year, although each business unit saw its operating profit improve.
The full-year results were mirrored in Tyson's fourth quarter, with rising profits and lower sales.
Fourth-quarter net income reached $391m, up from $258m year-on-year. Excluding non-recurring items, adjusted earnings per share came to $0.96 cents. However, according to marketwatch.com, that missed a FactSet analyst consensus forecast of $1.16. Operating income was $568m, against $550m a year earlier.
Sales stood at $9.16bn, down from the $10.51bn Tyson generated in the fourth quarter of its previous financial year. According to the FactSet consensus, analysts had forecast sales of $9.40bn, marketwatch.com said.
"Fiscal 2016 was our fourth consecutive year of record results," Smith said. "We produced record earnings per share, operating income and operating margin."
Smith also pointed to the improvement seen from Tyson's "core nine" lines, areas the company believes can drive growth in its prepared foods division. The so-called "core nine" brands are the group's retail value-added poultry, its Wright branded bacon, two products sold under the Hillshire Farm label -smoked sausage and lunchmeat and two marketed under the Jimmy Dean brand – frozen breakfast and breakfast sausage. The group also includes Aidells smoked sausage, State Fair corn dogs and two lines sold under the Ball Park brand – corn dogs and hot dogs.
"We're growing where we want to grow by selling more branded, higher margin products. Sales volume was up in our core nine product lines at retail and our top-tier products in foodservice," Smith said. "The prepared foods segment had a record margin for the year, while simultaneously driving industry-leading category growth at retail. The pork segment had a record year as well, while the chicken segment nearly matched last year's record margin. The beef segment is a great turnaround story, producing normalised margins for the year."
Smith added: "The first seven weeks of fiscal 2017 have been phenomenal as we are off to the best start we have ever experienced."
Hayes, looking ahead further into Tyson's new financial year, added: " We will continue building this business for long-term, sustainable growth by investing in innovation, consumer insights, our brands, our customer relationships, our facilities and our people. In addition to allocating $1bn for capital expenditures in fiscal 2017, we are investing in initiatives such as improved worker safety, food safety, animal well-being, warehouse and distribution optimisation and attracting and retaining talent throughout our company. These investments will pay off in the coming years through, among other things, improved costs and reduced turnover."
Shares in Tyson were down over 10% in pre-market trading today.