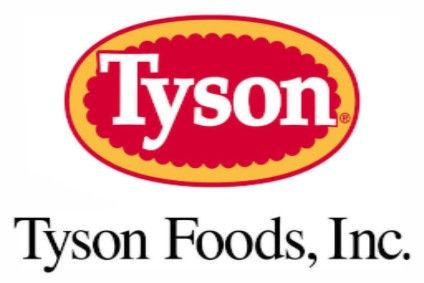 Tyson Foods, the US meat giant, today (8 August) raised its earnings per share forecast after reporting "record" earnings in the third quarter.
The Ball Park and Jimmy Dean owner has set its forecast for fiscal 2016 GAAP earnings per share at US$4.47-$4.57. The company also increased its estimate for adjusted earnings per share, which excludes items including charges from 2014's acquisition of Hillshire Brands, from $4.20-4.30 to $4.40-$4.50.
In the three months to 2 July, Tyson generated "record" earnings per share of $1.25, up 51% year-on-year. It also booked record adjusted earnings per share, which excluded costs from the acquisition of Hillshire, from a plant fire and a tax benefit,of $1.21, which also represented a 51% increase on a year earlier.
Operating income up 36% to $767m, while adjusted operating income, which excluded costs from the acquisition of Hillshire and from a plant fire, grew 35%.
However, net sales fell 4.1% in the third quarter to $9.4bn. Sales from Tyson's beef unit dropped more than 14%, with the company pointing an increased supply in the industry. Its prepared foods business posted a 1.9% dip in sales, although volumes rose.
"We produced record third quarter earnings per share, operating income and return on sales. All operating segment results were in or above their normalized operating margin ranges, with the Chicken segment delivering a record 13.9% return on sales," Tyson CEO Donnie Smith said.