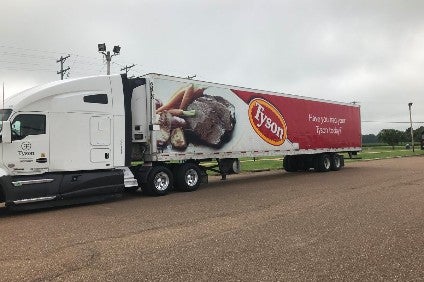 US meat giant Tyson Foods has raised its revenue forecast for fiscal 2021 after seeing strong demand for beef following the re-opening of the foodservice sector.
The Arkansas-based business reported third-quarter revenues of US$12.48bn, compared to $10.02bn in the same period last year. Net income rose from $526m to $753m.
Beef sales were $4.95bn compared to $3.65bn 12 months previously.
Tyson Foods said today (9 August) it expects total sales to be about $46bn-$47bn for fiscal 2021, compared with an earlier forecast of $44bn to $46bn.
CEO Donnie King said: "Our foodservice volume improved as the restaurant industry began to reopen and recover. Our beef business increased production to meet strong US and international demand for higher-quality products. And we continued to build financial strength, reducing our debt and investing in future growth by laying out plans to expand our business, both to address capacity constraints and meet growing demand."
Tyson said it expects capital expenditure to be approximately $1.3bn for fiscal 2021, including spending for capacity expansion, growth, safety, animal well-being, infrastructure replacements and upgrades, as well as operational improvements that are expected to result in increased capacity, production and labour efficiencies.
In November, the company said it was stepping up its investment in overseas production.
Elsewhere today. Tyson revealed it had incurred Covid-19-related expenses of $55m for the quarter.